2003

Jan.1, 2003, Dedham, MA


Spent first night in new home.


April 16, 2003 A warm day.
Worked on the van all winter and spring and it's almost done and ready to travel.
Took Job for his first canoe ride down the river. The winter is almost behind us.
I just realized that today is Bandit's birthday. It's been 3 years since he passed away. When my life was ready again I started visiting animal shelters in the southern Maine area and looking online at petfinder.org. I hadn't planned on getting another purebred lab and Job isn't. Growing up my family had always had labs, but I thought it was time for a change. They're overbred, now, and are more of a fashion statement than a pet. I looked for months at all different kinds of large active breeds pure and mixed. Some pups were being sold for $2,ooo. Others were free and just needed a good home. I was looking for a dog for selfish reasons I guess. My life at the farm seemed to scream "Chris, this is the perfect life for a dog." The hayfields, my sailboat, all the animals, the quiet nights. I started looking, again, because I wanted a dog, but also because it just seemed a waste to live such a life and not have someone, a dog even, to share it with. It was a big committment and I eased into it and when it was all said in done I hadn't found a dog, he had found me.





We're still in New England. It was a cold winter for me and a long winter for Job. We've had a couple of sunny days here and there this spring, but today was the first day it was actually hot, so I cancelled everything and took Job for a day of fun. He earned it, hanging in with me while I worked on the van all winter getting it ready to head to California. It's finished enough that we're mobile, functional, and self-contained.


The only thing is now it's spring and where else would we want to be but Maine for the summer certainly not L.A. The new plan is to produce the next movie in Portland and then maybe head to Cali. late fall with it completed. We'll see. There are other things to consider. I've been on the road and unsettled for some time, now. I live the way I do because I have certain beliefs. I got Job and desire a feeling of "home" because I have certain wants. My conscience and what the future holds this summer will determine how these two forces play out. There are many ways to acheive the same balance.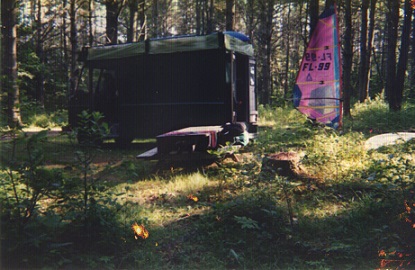 PRAY FOR PEACE AND FOR OUR TROOPS.

Summer, 2003
Came back to work at the farm part-time while I design and build a new pack/wagon/shelter for Job and I. When it is done, we'll leave on foot. I tried settling down again, landed a really good job with benefits, found a nice house right on the ocean with killer sunsets, and was preparing to produce my next movie, but I couldn't justify it all. I'd rather be a poem than a poet, not that I'm either. So instead of trying to come back to living a domestic life, I've decided to go further in the opposite direction and live even simpler.


Oct.14, 2003

freedom.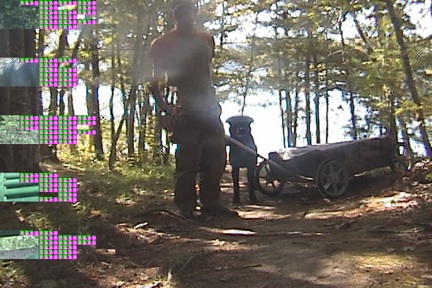 Oct.19th, 2002
Set to hit the road tommorrow. I had planned on leaving last weekend, but I had to modify the aluminum half-axles I used to mount the wheels of the pack on. I'd downsized the wheels to ones which were all plastic with no steel bearings in the interest of weight and packability, but the threaded aluminum rod would carve away the plastic, so I had to get some smooth aluminum stock and thread it myself leaving a section unthreaded where the wheel could spin. It worked out good because we were hit with a nasty wind and rain storm on Monday which I avoided and I got to go to the Harvest Dance at the farm last night.


Oct.20th, 2003
Parked the van in an old empty barn at the farm, did some last minute errands with Heather, my friend who lives on the farm with Colin, her boyfriend, and their two dogs, said some good-bye's and started walking around noon. Had to stop a few times to make some adjustments to the wheel half axles and hub nuts, had lunch at the little sandwich shop and mailed a birthday card at the little post office on South Freeport Rd. Made it to rte.1, stashed the pack in the woods and walked north to the hardware store to get a few little things I needed, returned and got my pack, headed south on rte.1. Broke a wheel crossing a busy intersection during rush hour in Yarmouth. There was no sidewalk or breakdown lane as rte.1 passed under the freeway overpass so I had to quickly get across four lanes of traffic to safely walk Job under the bridge along the concrete hill formed by the bridge's understructure. Fixed the wheel, stopped at another hardware store to see if they had what the other one didin't, got a couple more things, came upon a nice paved footpath that brought you from rte.1 over a little bridge through a small section of woods and down to Main St. in Yarmouth. I thought how great it would be to have a nice little path to walk on all the time. I bet people would walk a lot more if we had more mini-foot-roads like this. Main St. was where I planned to pick the railroad tracks that'll take me south to Portland and then anywhere I want to go in America without having to deal with cars. I think I've heard that walking on the tracks is illegal. By now it was dark which is what I wanted. I was going to try and walk all night and then sleep during the day. I figured it would be more quiet and peaceful this way atleast until I got out of the populated area I was in. Plus the nights were getting colder so it'd be more comfortable to sleep during the day in the sunlight. I don't know, we'll see how it goes. Had to work on the pack a some more, decided to carry it for a while, got tired, decided to sleep and fell over onto a bed of leaves in the woods along the tracks. It felt good to just lay there in the familiar smell of the leaves. We'd had a good day despite having to periodicly stop and fix things. The first week or so is always full of a lot of trial and error. Job did awesome. He's really loving it. He so excited to be on the move. Actually, I think it's a more natural way for a dog to live. Eventually I rolled the pack off of me which was still on my back, fed Job, ate what was left of a block of cheese, pulled out my sleeping bag and curled up. We weren't going to need bed rolls (yah, Job has his own) the leaves insulated us enough from the cold ground. Despite the interruption of being woken up by a deer and later it raining on us a little, it wasn't a bad night.


Oct.24th, 2003, Scarborough, ME
Left Portland after finishing all the things I had to do while I was in town. Took Congress St. straight out of town, to rte.22 west, traffic was annoying, stopped to put on one of those orange reflective vests a nice lady in Tuscon, Az. gave me when I was walking through there with Bandit a couple years back. I never would have bought one myself, but it's come in handy more than once. I have to admit it's a good idea as dorky as it looks. I'm actually in the process of making a refelctive collar for Job. My uncle's a mechanic. He works on big 18-wheeler's and gave me some 2" reflective tape for a trailer I was working on. It'll work perfect sewed to some yellow 2" tow strap. I suppose I could just by one, but I already had the stuff. Picked up Beech Ridge Rd. sometime during the night. I haven't quite walked all night, but it's late and I'm tired plus a little bummed. It's Friday night. Earlier I stopped at a bench outside a country corner store to feed Job and read my map under the light. The store was busy. People we're coming and going, gettin' outta work, grabbin' a six pack, gettin' ready to go out. It's a cold night. A cop pulled up and parked right next to me. I just read my map. He moved on eventually. There's still a few more things I'd like to do to my gear to make things work smoother the next time I get access to some real tools. When I do, I'll probably feel better in momemts like tonight. When I've really got my sh*t together questions that might pop up in my mind don't phase me a bit, but when it's cold and my clothes are damp from sweating all day and I'm sitting here in the dark in the woods writing this in my journal on a weekend night thinking about the good times people are having some place warm with a jukebox or a band, thinkin' about a girlfriend I once had, thinkin' about that life, I might ask myself is it worth it? Once I make those modifications to my gear I won't be so sweaty and tired at the end of the day.


Oct.25th, 2003, Arundel, ME
Beech Ridge Rd. to Holmes Rd. to Broad Turn Rd. to Hearn Rd. to Flag Pond Rd. to Jenkins Rd. to rte.112 to 1 to 111 to Mountain Rd.
-behind a round bale in a hay field

Oct.26th, 2003, York, ME
Mountain Rd. to Limerick Rd. to 1 to Shore Rd. to 1A.
-on the beach

Oct.27th, 2002, Kittery, ME. Letter to Heather and Colin, back at the farm:
Dudes,
The world's biggest pigs are on rte.103 west in York, ME just before you cross the townline into Kittery. Somebody's gotta go see these things. I was walking down the road on a wooded stretch of rte. 103 leaving York's rivers and coves behind when I looked over to my right and saw two very dirty volkswagon beetles (the older style) with no tires just sitting in a muddy fenced in yard beside a small house set way back from the road. Then one of the volkswagon beetles got up and started walking around and that's when I realized it wasn't a small rear engine German sportscar, it was a pig. The biggest friggin' pig I've ever seen. It wasn't a pig. It was a pig SUV, it was a friggin pig clydesdale, I don't know, a pink hippo. There were two of them. I've been to a lot of farms. I've lived and worked on a bunch and these pink whales needed to get back in the ocean cuz they were scaring me. Laying down they were up to my chest. I didn't even take a picture. I didn't think to. I was in shock. I'm not really the tourist type anyways snapping pictures at anything that catches my fancy. I keep a small disposable camera with me, but it usually lasts about six months. I take pictures to represent experiences I've had and chapters in my life not freak occurrences that come and go in a matter of a few seconds. If I'd stopped and hung out with the pigs and gotten to know them and we shared part of our lives together then, yah, maybe I would have taken a picture of them one night while we were out a bar dancing and having a couple a beers, but I just walked by, so i didn't. But, somebody's got to corrobarate my story so I don't seem like a freak (well, it might be too late for that) and if you do and it's just two pigs set back from the road on rte.103 west and no house don't be surprised. They've eaten it.
Hope you guys are well and have a fun Halloween. Peace, Chris and Job



Oct.28th-Nov.6th, 2003
Spent time visiting friends and family and working on gear in New England.

Nov.7th, 2003, Rye, N.H.
Rte.103 to rte.1, crossed Maine/N.H. stateline, walked around and checked out Portsmouth, got some dinner, got bored headed out.
-on the roof of a bulldozer parked in an empty lot by the road

Nov.8th, 2003, Rowley,MA
Rte.1, got groceries and a chicken dinner at grocery store in Kensington, friggin' windy and cold, crossed N.H./Ma. stateline, walked around and checked out Newbryport, headed out.
-on the side of a wooded hill overlooking the road

Nov.9th, 2003, Andover,MA
Rte.1 to rte.133 to 125 to 114
-under freeway overpass

Nov.10th, 2003, Nutting Lake,MA
Got some groceries, realized a pipe had fallen off my pack at some point between last night and this morning. It wasn't necessary to travel with, but it was necessay for my two-person (one person-one dog) tree tent. I could probably get away with replacing it with a piece of aluminum from a scrap metal yard, but it wouldn't be quite as strong. Stashed my pack and back tracked a couple of miles, found the pipe laying on the ground in the leaves at a park I stopped at briefly, headed back and got pack, tried taking some back roads out of Andover to give us a break from cars wipping by all the time, got a little lost, stopped at a church to get directions back to the main road. The lady at the church was fairly polite until I mentioned I was on foot when she started giving me directions to the expressway and then she became very stand-offish. I reached out my hand to thank her for the directions and could tell she didn't want to touch me. Rte.133 to Lovejoy Rd to Dascomb Rd. to Shawsheen St. to Andover Rd. to Concord Rd.
-in an island of woods between freeway on ramps and overpass




Nov.11th, 2003, Walden Pond, MA
Woke up in the freezing morning air, broke the ice in Job's water bowl, left half for him, he didn't want any, drank the rest (except the last bit of back-wash), got the camp packed up and was out of the area before the construction crew should up to work on the road just across the median from where we slept. Made it to Concord, Ma. this afternoon. The block or two that made up the downtown area of Concord seemed almost make-believe. Everything just looked too new and perfect. There were many well-dressed people on the sidewalks and in the shops. A lot of money must come through here to make it look the way it does.

I was excited to reach Walden Pond. It had been for the most part a cold and grueling walk from the farm in Freeport down to this destination, but a good trial run. It was exactly what I needed. There were many enjoyable moments, too. This is where I'd take a look at things now that I was back on the road and traveling efficiently. When Henry David Thoreau wrote Walden, it was at a time in our history when "man" was still wrestling with nature and nature still had a fighting chance. I looked forward to sitting where he sat and look over the same pond that he did and share the same challenge today that he did in 1845. My goal lately was not to improve my relationship with nature, but to have no relationship at all, to be the same thing, to be part of nature again. I remember a couple of summers ago sitting on one of the tractors at the farm grading the West Bay roads pondering what my plans for the future should be and thinking how complicated life becomes sometimes. I recalled what I'd learnt in sixth grade that the necessities of life are simply: food, water, shelter. That is all life truly required and, now, for me, more than this comes at too high a price. Now, nature doesn't even have a chance. The only thing we don't dominate, manipulate and control is the weather and thank God for that. And, the part of us that is closest to nature also suffers whether we realize it or not. I've always found solace in nature more so than in people and not because I like people less. It might be just the opposite. People feel so much pain and cause so much pain. They get angry, they lie, they say one thing one day and something totally different the next. They deny what they know is true. Most have given up on honesty. I can always trust nature. The tide comes in and the current flows upriver. The tide goes out and the current flows down. It doesn't get mad and decide not to flow anymore. It can't lie. It doesn't even know how.
I won't go into how things were at Walden Pond except to say there was a gift shop, a boat ramp, a lot of chain link fence and no dogs allowed not even on a leash. Job and I walked through the night and rain and made it to the rte.128 expressway where in the morning we'll hitch a ride south to get out of the winter .
Concord Rd. to North Rd. to rte.62 to 2A to 2 to Bedford Rd. to Lincoln to 117 to 128.
-under overpass
(I did sit on the shore of the pond and look over the same water as Mr.Thoreau. We both did.)




Nov. 20th, 2003, Folly Beach, South Carolina
-in a hammock on the beach

Nov. 21st, 2003, Charleston, S.C.
-in hammock under some palm trees in downtown Charleston

Nov. 22nd, 2003, outside Red Top, S.C.
-in a junkyard van

Nov. 23rd, 2003, Parkers Ferry, S.C.
-on top of a steel storage container by the railroad tracks (all three of us, me, Job, and Allygator, a young female stray that's been following us)

Nov. 24th, 2003, Green Pond, S.C.
-on the ground by the tracks under the highway overpass

Nov. 25th, 2003, Yemassee, S.C.

Nov. 26th, 2003, Yemassee, S.C.

Nov. 27th, 2003, Ridgeland, S.C.

Nov. 28th, 3003, Tilman, S.C.

Nov. 29th, 2003, Clyo, Georgia

Nov. 30th, 2003, Clyo, GA

Dec. 1st, 2003, Clyo, GA

Dec. 2nd, 2003, outside Springfield, GA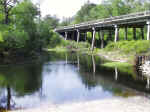 Heading out this morning from my new friends', the Browning's and Holloway's.
-Job and I both got to sleep indoors lastnight.
*Eddie Browning for his help and friendship


Dec. 3rd, 2003, Pembroke, GA

Dec. 4th, 2003, outside Claxton, GA

Dec. 5th, 2003, Vidalia, GA

Dec. 6th, 2003, Alamo, GA

Dec. 7th, 2003, outside of Alamo, GA

Dec. 8th, 2003, outside McRae, GA

Dec. 9th, 2003, oustide Abbeville, GA

Dec. 10th, 2003, Ashburn, GA

Dec. 11th, 2003, Sylvester, GA

Dec. 12th, 2003, outside Camilla, GA

Dec. 13th, 2003, Pelham, GA

Dec. 14th, 2003, outside Pelham, GA

Dec. 15th, 2003, Cairo, GA

Dec.16th, 2003, Bainbridge, GA

Dec.17th, 2003, Chattahoochee, Florida

Dec.18th, 2003, Grand Ridge, FL

Dec. 19th, 2003, Marianna, FL

Dec. 20th, 2003, Bonifay, FL

Dec. 21st, 2003, Westville, FL

Dec. 22nd, 2003, DeFuniak Springs, FL


Job and I stopped for a couple hours and went swimming in the Ponce De Leon "Fountain of Youth". We had the whole place to ourselves.

Dec. 23rd, 2003, Freeport, FL
Decided to head due south for the coast.

Dec. 24th, 2003, Santa Rosa Beach, FL
Slept under the stars on the beach.

Dec. 25th, 2003, Destin, FL

I haven't been much for the holidays these last few years atleast not for the mainstream reasons, but Job and I did have a white Christmas. Right down here on the Emerald Coast. We got about six inches. It was like 70 degrees yesterday, but there's plenty of the white stuff today. I took pictures.

Dec. 26th, 2003, Navare, FL

Dec. 27th, 2003, Pensacola Beach, FL

Dec. 28th, 2003, Gulf Breeze, FL

Dec. 29th-30th, 2003, Pensacola, FL
Worked on gear.

Dec. 31st, 2003, Perdido Key, FL
Had my own little "one-man (and a dog) dance party" along the side of the gulf shore boulevard as I walked down the road. Watched the fireworks on the beach and went to sleep.





1996 1997 1998 1999 2000 2001 2002 // 2004 X 2006


back

main page