1999

Jan.1, 1999, at Dave and Raquel's, N.Y.C.


Tried taking Bandit with me to walk again, but it's not going to work. We were down in Florida ready to leave, but I had to accept that it's too much for him. He's too old. I'm bringing him back home to stay with family.



Jan.19th, 1999, South Boston, MA.

Tommorrow, My friend, Rachael, is driving me to N.Y.C. where I'll visit Dave, in Brooklyn and the friends at MTV Unfiltered in Manhattan. From there, I'm heading down to Savannah, Georgia where I'll turn and head west and begin walking to San Diego,CA.




Jan.22rd, 1999. Savannah,GA.

Left N.Y.C. last night. This morning, walked into downtown Savannah from train station, a couple miles. Spent night up in construction site scaffolding. It rained. Tommorrow's Sunday and though I'm not religious, I do believe in God (for lack of a better word), so I'll find a church and then after the service I'll find a spot near the ocean to begin my journey.




Jan.23th, 1999. Savannah, GA.

Spent the night at Chihiro's, my new friend. I met her at the church I went to. The pastor wasn't all that friendly, but Chihiro was, eventhough she didn't actually go to the church. She was there playing the piano for the congregation. After we met, she offered me lunch, a place to stay and a ride to the coast in the morning.




Monday, Jan.24th, 1999. Richmond Hill,GA.

Found a spot on the map that sounded appropriate, the Isle of Hope. Chihiro dropped me off and after a little while of sitting in the sun I started walking. Spent night up in bridge over railroad tracks a few miles north of Richmond Hill. Things are going good.




Jan.25th, 1999. Midway,GA.

Felt great today, but had to spend the night on the roof of an empty house. It was for sale in a new development. This choice didn't sit right with me, but it was pitch black and I didn't know how far it would be 'til I found something better. Didn't get much sleep.




Jan.27th, 1999. Ludowici,GA.

I've been laid-up for two days. I'm only four days into my walk, I've only covered about 50 miles, and I can't walk. Both my knees are seized up and the tendon in my right heel is shot.

On the day I made it to the Pacific Ocean last year, I went for a swim then curled up in the sun and went to sleep. I slept all day and all night. It had taken me six months and three days. The next day when I woke I couldn't bend my right leg. The day before it was fine, I hadn't injured it, but now I could barely move it. In the back of my mind I was contimplating on walking back to Boston, but this injury made sure I wouldn't get far (I ended up getting a motorcycle). I tried walking it off like I could most of my injuries during the trip, but this only made it worse. Only months later did it finally go away. Now with 3,000 miles staring me in the face again, it has come back in full force. So today I lay here in this little one block town waiting to see what tommorrow brings.




Jan.29th, 1999. Jesup,GA.

I've only covered 15 miles. The last town, Jesup, is three miles back and the next town, Screven, is nine miles ahead. My legs have gotten worse. Kneeling in the grass on the side of the road, I start thinking about what a man I met in Folsom, CA, asked me when I mentioned some frustrations I was having. His name was Jack. He and his wife, Deanne, gave me a place to stay for a couple of days. I dog sat for them. Jack asked if I was trying to "push the river". I'd never heard the expression before, but I knew what he meant.




Feb.28th, 1999. South Boston,MA.

My days, now, revolve around Bandit. He is home to me and I am home to him. I am no longer walking across the country. I thought it was what I was supposed to do. It's now clear to me that it wasn't. My father broke his leg the day after I returned with Bandit. My mother couldn't have lifted him. If I wasn't there to help the ordeal would have been a lot worse.

Years ago when I left New England after college, I promised Bandit (or maybe I promised myself) that I would come back for him as soon as I got settled in a place where he could run free. We'd spend time together during my "regrouping visits" back home, but I always had to leave him behind because I never knew what kind of conditions I'd be living under on the road, and those conditions I chose to subject myself to, but he didn't. So, reluctantly I'd leave him behind. He started out as the family dog, so he always had a home at my mother and father's house. I didn't know how long this next trip was going to last, but over the years I had gotten pretty good at staying organized and self-sufficient while being on the road, so I thought that wide open place I'd been dreaming of where Bandit could run free was the entire country, so he came with me this time. We were down in Miami around Christmastime getting ready to head west on Jan.1st, when I soon had to accept that Bandit's body just wasn't up to the task especially in the southern heat. He's in awesome shape for a Black Lab who's almost 13, but after a couple of moderate trial days it was clear that taking him with me wasn't the right thing to do. Luckily, I had the use of a car and drove him back up to Boston and took him to the vet. He has cancer and, now, has only a week or two more to live (so they say). My legs are completely fine now, but I'm glad they forced me to postpone the trip.




March 1st, 1999. Portland,ME.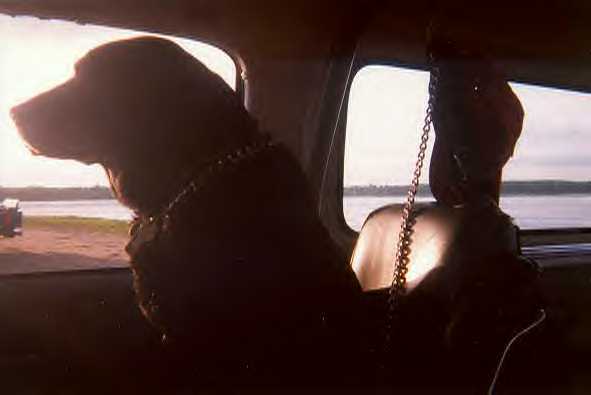 I came back to Portland because this is where I started building a life for myself before I hit the road. I had planned on putting together all the footage I'd collected during my journey when I made it to the west coast this time. So, now, I'm simply getting to work on it sooner than I thought. I believe any honest statement about how someone is choosing to deal with life is relevant to us all. I, also, believe that the best teacher is experience and the second best is example. Over the past years, I've spent time with people from all over the country from every walk life and they've all been an an example to me and each taught me something special. I didn't get it all on tape. Video cameras aren't as durable as the human spirit and are expensive to fix, but I do have close to a 100 hours of footage. So, taking care of Bandit and putting together the documentary are the tasks at hand. Gotto go Bandit's waiting outside and it's cold up here Maine.
April 5, 1999.
We've made it through the winter. Spring is here. No more freezing nights. I got my old job back at the feed store delivering grain and I just bought an ol'Chevy Blazer for cheap money. So we're livin' large, now. Bandit's lovin' life. The vets said he only had a month or so left before they wanted to put him to sleep. That was three months ago. Now, He divides his day between riding around the countryside with me and hanging out at the feed store getting all kinds of doggie treats. My new friend, Mary, who works at the store, has a young retriever named Molly who loves Bandit, so now the knucklehead's even got a girlfriend. When I'm not at work I'm usually at my boss's farm workin' on the Blazer while Bandit runs free in the acres of wilderness. We're still livin' on the road, but at the moment the road is smooth.
Portland,ME
May 11th, 1999. Portland,ME.
Bandit's still doing great. The tumor's getting bigger, but it's not phasing him. I had to quit my job at the feed store. Someday I'm going to actually live in a place that, for now, I only dream about and work towards. It's a place where people are more apt to talk to you than about you. Where people are more apt to greet you with a smile than a blank stare. Where people are more open than defensive. Straightforward rather than manipulative. Caring rather than indifferent. I'm not sayin' I want to tip-toe through the tulips with friggin' everybody. I just want to create a place where people won't always have to watch their back because we'll all be in it together. Actually, I live there now, it's just only as big as a '75 Blazer.
"We can't work together until we work on ourselves."
June 15th, 1999. Portland, ME.
Bandit's doing awesome. I found some work at a lumber yard that was located at the end of a remote point of land on the outskirts of the Portland. So, while I worked Bandit roams free around the large piece of property visiting everyone at the various different warehouses on the point and swimming in the ocean when he gets too hot. The blazer's a convertible so I've taken the top off so we can sleep under the stars every night while the breeze coming off the water keeps the bugs away. I'm leaving the lumber yard though and next week I start landscaping on some land on the Saco River just south of Portland. I'll being doing this on my own so I'll be able to make my own schedule. It'll finally allow me to get started on the documentary and take advantage of the fact that Bandit's condition is keeping us situated in one place for the time being. The tumar is progressing, but Bandit's spirits are high. He even jumped out of the truck after some dogs on the point the other day. I didn't think he still had it in him. Normally, I'd scold him for jumping out the window like that, but the owner of the other dogs was real pretty, and I forgot to.
July 20th,1999. Portland,ME.
"the girl on the chimney blinded me, now i'm afraid of what i see, cuz i thought it was to good to be ...true.
but she's the one who walks alone, and i'm the one without a home, these are the seeds that we have sewn to get ...through.
she'll be alone if he passes on and no one will know just what is wrong, i wish i could say that i belong ...with you."
Bandit's happy and free.
Sept. 2nd,1999. Portland,ME.
My plan is to finish the video project and then on Jan. 1st, 2000 begin walking again. And this time when people ask me why am I walking I'll simply hand them a tape. This is my plan and plans can always change, but you can't change your plan, until you make one.
Bandit was attacked by a big German shepherd and mauled badly. I wasn't there to stop it. It wasn't until a day later that I was able to piece together what had happened.
Larry, a friend who works in the wood shop on the land I've been working, told me there were a few houses on the backside of the woods adjacent to the property. Previously, I had been told those woods were uninhabited and the only way to access them was to cross the creek that seperated it from the mainland. I was also told that the owners of the woods wouldn't mind Bandit rumping around over there. So I allowed Bandit to include the area as part of his daily routine. Each morning he would swim the creek and walk along the tree line that boardered the marsh as it wrapped around and met the river. Eventually, he'd disappear out of site, but he'd always return forty-five minutes or so later tired and wet. He'd grab a big drink from his water bowl that was always by the wood pile then he'd find a spot in the sun to sleep and dry off. At the end of this particular day, I came out of the wood shop which also had a bathroom and shower to feed Bandit who was waiting for me in the front seat of the truck, but when I dropped the tailgate and called him over to give him his food he just layed there and looked at me. I kidded him about being an old fart and went around to the door, reached in and gave him boost up. He managed to carry himself between the two front seats of the blazer and into the back, but collapsed in the middle of the bed. Then I knew he wasn't just tired. TO BE CONTINUED...
September 20th, 1999. Portland,ME.
Bandit's hurt himself before tryin' to jump across a creek that was too wide or whateva, but he's usually fine in a day or two. But, it had been a day and I still couldn't even touch his leg without him lettin' out a yelp. When I finally did manage to inspect his leg again, I found what I thought could only be a bullet hole in the back of his thigh. Larry agreed. He said he'd shot plentya squirrels to know that when the hair is shoved into the hole like that it's from a bullet or a pellet. Then I realized the reason Bandit was still in so much pain was because the object must still be in his leg. I got very angry at the thought of someone shooting Bandit. Larry suggested before I go bangin' down the doors of all the people in the neighborhood to find out who owned a pellet gun or small caliber rifle that we take a ride down the end of the road to where it boarders the woods.
We parked Larry's car at the head of a trail that accessed the woods from the road. It was a beautiful piece of land. The tall trees where spread apart which gave you the feelin' of bein' out in the open eventhough you were still under the canopy of their branches. The ground gradually rose up as we walked eventually ending abruptly up as it overlooked the sunny marsh about twenty feet below. Though it was nice, I could still feel myself getting angrier and angrier frustrated by the fact that there was little chance of us finding who had down this to my dog. The bullet holes in the "No Trespassing" sign (we had permission) at the head of the trail only added to the feelin'. As the treeline wrapped along the marsh and met the Saco River the trail broke away and headed back into the woods and down the side of a small ravine. As it led us up the other side of it winded deeper into the woods, or so we thought. We rounded the corner and before we knew it we were standing at the beginnin' of somone's driveway and a giant German shepherd was barrelin' down upon us. Larry's dog, Jake, who was with us, is a big black lab mix about a 110lbs. This dog was bigger and gettin' bigger by the second. I grabbed Jake and pulled him between my legs and got a firm grip on his collar. I yelled to try and slow the dog down as he closed in on us, but it didn't work. As I stood there watchin' him zero in on me and Jake, I couldn't help but notice what a good looking animal he was roaring down upon us at full speed a cloud of dust in his wake. He had the typical black markings of a normal German Shepherd, but where they are usually tannish-brown he was orange, furious orange. I'd neva seen one this color or this big. A women yelled to him from back at the house, but it was way too late, he had us. Just before impact I raised up my leg and held it out to fend off the collision. This forced him to veer off and circle around us. The fact that he didn't latch onto to my leg made it clear that he wasn't after me. He was after Jake. Jake's a big boy, so it wasn't that I thought he couldn't take care of himself. I was just tryin' to avoid a fight. If you love animals you never like watchin' a dog you know get in a fight even if he's winning. Another factor nowadayz is a lot of dogs are fixed which takes a lot of the fight out of 'em, so when you encounter a dog who isn't most people aren't ready for the kind of ferociousness that they're capable of. If I had to guess I'd say that this dog was not fixed. As he circled around us and jockeyed for position I realized that holding Jake now is just gonna make it harder for him to protect himself. I also realized that the only thing between these two big dogs was my legs. Larry yelled, "Just let'em go, Chris!" and I did. Jake tried to avoid the other dog without actually running away, but it wasn't workin'. Jake was fixed and it was obvious that he didn't wanna fight, but he also wasn't just gonna roll over and surrender either.
to be continued...
September 30th, 1999. Portland,ME.
When the dust had settled we had avoided a dog fight and had learned that Bandit was not shot after all. After talking to the woman and her son, they shared their concern for another older Black Lab their dog had attacked yesterday. The teen-aged boy said his father had to beat their dog with a stick to get him off the Lab. The hole in Bandit's leg wasn't from a bullet, it was where the German Shepherd had latched on. I was surprised how quickly, Bandit recovered. A couple days later he was back to normal. I don't have any bad feelings towards the other dog. He was protecting his home. Bandit was trespassing. I would have never let him venture out of my sight had I'd known there were houses on the other side of the woods. It's not easy to see or learn that your dog got his butt kicked, but it's part of the natural order of things. Bandit had his day when he was young and in his prime and kicked plenty of butt. Now it's just time to pass the torch. He's old and the cancer's taken a lot of his strength, but he's been kickin' it's butt a lot longer than any would have thought (except me).




1996 1997 1998 // 2000 2001 2002 2003 2004 X 2006 2007


most recent update

main page