2006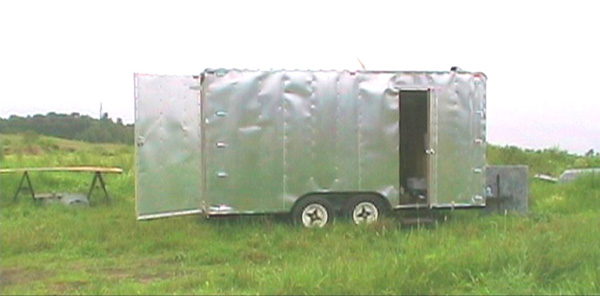 May 1st, 2006, Buxton, Maine

Outside the box, off the grid and under the radar. Job and I are back on track. I took advantage of a temporary housing opportunity that arose in early winter to build a new home. I stripped down an old dilapidated camper recycling all the sheet metal and aluminum. The windows, hinges, latches, light fixtures, etc. I parted out and gave to a good ol'boy who lived down the road and made part of his income fixing up old campers and reselling them. He was very appreciative. I used the two axle steel frame that remained to build an 7x14 enclosed cargo trailer. They sell new for about $5,000. I think I spent about $600 to build mine. It is equipped with solar panels, a kitchenette, a pull-out king size bed, screen doors (to stay cool at night in the summer), a wood stove, (to stay warm at night in the winter) and a work shop. Now that my friend who temporarily needed a room-mate has found a smaller place, Job and I have moved to a farm down the road. I got my old job back at the feed store I used to work at 10 years ago before this chapter in my life began. We walk to and from work. It's a rough commute along the fields and pastures of the 200 acre dairy farm we're calling home for the time being while I put the finishing touches on the trailer.


What's next is still presenting itself. Job and I were on foot in the middle of Texas on our way to California to make a new movie that embodies the values living simple and free has taught me before a family emergency brought me back east. Now that those circumstances have taken their course and I've addressed the emotional loss of people who formed a feeling of home to me with a mobile homebase to work out of making another movie with all it's technological dependencies doesn't look so appealing. The world seems to be more of an uncertain place pesonally, but also globally. Keeping a low overhead seems the most appropriate, so I began writing a book, instead, about everything I've learnt, all the people I've met and the experiences I've had living on the road. I think it's important to have something to offer people. I haven't lived this way to avoid a more normal life and the responsibilities that go with it. I've done it so I wouldn't have to compromise everything I believe being an American means by living an honest life. If the day came when I was lucky enough to become a husband and a father I wanted to have an answer for my family when they asked me, "Why do things have to be the way they are?" knowing I've done everything I could not to be part of the problem. The freedom I've had for the last 10 years has given me an opportunity to learn what most people will never have the chance to because they're too busy making money and surviving. Beliefs only become values when you practice using them everyday and know you can depend on them. That's what I've been doing. But, it's pointless if we don't pass on these lessons to one another. Some people don't have the time or the interest to learn more about themselves and life, but others do. Others hunger for answers, knowledge and a connection. If I never succeed at what I believed taking this road would help me accomplish then atleast my life can be an open book to the next person who tries.

Oct.7, 2006, Buxton, Maine
What a moon. Through the trees as Job and I walked towards the Saco River at dusk, it looked like a giant spotlight. We paddled down from a power plant in Dayton. I stashed the kayak in the bushes by the rte.5 bridge in Biddeford and hitch-hiked paddle in-hand back to get the truck. I figured the paddle might help us get a ride, but it didn't. We ended up having to walk the whole way which was no big deal. We still made it to the truck before dark. It was such a beautiful day. I think we're all especially appreciating days like these because we know they're numbered as winter is arriving. When the sunset and night sky are this beautiful it makes me want to share it with someone. Maybe that's why it's a little sad that we didn't get a ride. Job didn't mind. He loves romping down these country roads.


1996 1997 1998 1999 2000 2001 2002 2003 2004 X // 2007 2008




main page