2011

1.1.11, Morro Bay, CA

Midnight

I stood in the dark among the bushes and mulch. It was late, it was cold and the clock was ticking in my mind. My plan had unraveled. After I fought with it for a little while leaving to take action to try and get it back on track all the while, also, trying to nurture this new ability I'd been recently trying to improve by remaining open and accepting something that may at first appear undesirable rather than resist it. Guess it's a really complicated way of saying I was trying to improve my faith. When I finally arrived at acceptance, I was back at that spot in the park by the bushes in the dark where I had parked the wagon out of sight. There was still plenty of time before midnight and after considering everything; overcoming obstacles, quitting, curling up in the dark and trying to sleep, or just breathing and accepting, acceptance proved to be the path to overcoming all obstacles and I found myself floating on a magical cloud and hours later nestled up warm and cozy having achieved everything I wanted to that night in a miraculous fashion.

If you've done something a lot having it be this different than what you're used to has a profound affect. I've walked thousands of miles alone or with a four-legged companion and usually never at night. But tonight, I was. It was New Year's eve and I was beginning another journey. As I walked along the pitch black road, I could of sworn I was floating like walking on clouds. I heard it said you won't recognize heaven if you've never been to hell. In fact, it was just an optical illusion. The Christmas lights on the wagon behind me cast a mystical light on the road allowing me to walk as a carpet of light unrolled in front of me with every step I took. I had never walked with Christmas lights before. I'd built the wagon to carry a full size bag of dog food, supply me with all the electricity I would need, and if I wanted , provide a place for me and Job to sleep at night. The weightlessness I felt was the overwhelming sense of relief as I exited the unpleasant state I'd been in the last 2 years trying to convince myself that I had to give up walking and, finally, come off the road.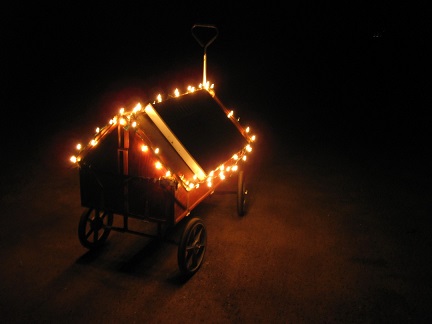 It read "Bluegrass Band Tonight at the Red Barn's New Year's Eve Concert..." on the electric marquee in downtown Los Osos this afternoon. My plan was to see some fun live music, dance the night away and then wind down by beginning the trip and walking off into the night camping someplace nice and quiet. I got to the Red Barn around 9:30 pm and the doors were all closed up and there wasn't a soul around. There was still a sign on the sidewalk saying "Live Music Tonight at the Red Barn, starts at 6:00, 1280 Palsides and Los Osos Valley Rd". I stood there reading the sign at the corner of Los Osos Valley Rd and Palisades which was 2180 not 1280 and apparently the concert only lasted 'til 8 o'clock. Not much of a New Year's Eve event. Instead I plugged in the Christmas lights, cranked some music and Job and I had our own New Year's Eve concert bopping and hopping down the road as the clock struck twelve our brightly lit chariot in tow and when it was over around 3:30 am we were up and over Black Mountain and in Morro Bay all tucked in at the beach warm and dry before any rain came. Woke up to watch the sunrise light up a western sky over the ocean as a faint little pink rainbow curved into the sea. Packed up camp and headed along the waterfront over to the harbor and made it to "the Aguero" the boat I worked on last winter before the rain started up again. Took a nice long nap. Good bye 2010.





Thank you:
Jerry and his pick-up truck wagon delivery service for dropping us at the red barn.
Jeremiah for all his help including letting a couple of vagabonds stowaway on "the Aguero" during some nasty weather.




1.11.11, San Luis Obispo, CA



While waiting for the last of my possessions to sell, I took advantage of the rainy weather last week, and the fact that I had a garage to work out of, to put some finishing touches
on the wagon. Said good-bye to the coast
and walked into SLO to attend SLO Green Drinks, a monthly networking event for environmental professionals in San Luis Obispo County last night. After the meeting around 7:30pm, found a lame campsite near the creek that runs through town. Got up early and out of there to do errands. Swapped out the bearings in the wagon wheels for new ones, the ones that were in them already had about 1,000 miles on them from the last walk. Went for a late lunch with Cat, a new friend, who rode by on her bicycle while I had stopped on a quiet side-street to sit and make a list of more errands to do. She is planning on biking South America after graduating this summer before jumping into the workforce like so many graduates feel pressured to do. Headed out of town and found a good spot to camp before dark and finally got a good night's sleep.

*Cat, for trusting her instincts and breaking out of her comfort zone.

Met:
Gene Gisin
Alison Cebulla, of SLO Solstice, a green directory and SLO Green Drinks organizer
Patrick Mahan, of Funride, "the green way to drive"
Claire, of Sun Power , solar solutions for home, business and power plants, and organizer of Sustainable Spirits, a networking group for young professionals
Ian Fenwick, of Verde Finanze (Green Finances)
Bill Bradlee, of The Regeneratiion Project, an interfaith ministry devoted to deepening the connection between ecology and faith
Erin Inglish, Sustainability Coordinator for the Lucia Mar Unified School District
Ben Peters, of REC Solar, providing cost effective solar power for homes and businesses


Thank you:
Jerry Mullen, for the use of his garage
Crystal Martinez, for meeting with me to drop off my new wheels




Jan. 12th, 2011, San Luis Obispo, CA


Stashed the wagon in a stand of reeds with the solar panel facing south to top off the battery while I went into town to get groceries and do more errands.




Jan. 13th, 2011, San Luis Obispo, CA
Plugged in and charged up my laptop, cell phone, electric razor, and mp3 player. Got online and updated blog, went over checklist I need to finish before leaving the area and officially heading across the country, worked on book, played a little guitar, and enjoyed the fact that though I was camped in a grove of trees near an expressway while cars sped by with people in them that had way more than me I had everything I needed.








Walked into to town and got some dinner at the Thursday Night Farmer's Market. As I was thinking how wonderful the farmer's market was, a woman came up to me and told me that dogs weren't allowed. Treated myself, and Job, to some baby-back ribs, garlic mashed potatoes and a soda. Watched a great guy, Mark, on a unicycle juggle and entertain with his friend, Tyler, the small crowd that had collected at the very end of blocked off section of streets where the farmer's market is held. Headed back to the campsite.



Jan. 14th, 2011, San Luis Obispo, CA
Packed up the camp, headed into town, did laundry, and worked on the wagon wheels. The bearings don't seem to be lasting, got some lithium spray at Home Depot which made a big difference, but I'm going to have to try to find some sealed bearings so dust and debris don't continue to wear them out prematurely. Got a nice big dinner at the "new" New Frontiers, camped in the empty lot beside the shopping plaza.



Jan. 15th, Edna, CA
Grabbed a big breakfast at New Frontiers, picked up some small hand tools at Home Depot, got some more groceries at Trader Joe's and headed out of town. Took the country highway 227 south and found a nice camping spot near the little town of Edna.



Jan.16th, 2011, Arroyo Grande, CA
Packed up camp and headed south on highway 227, used the push handle on a few smaller hills. Seeing as the wagon weighs a lot more than I do, I quickly realized early on in testing it out that pushing it up steep hills would be a lot more efficient than trying to pull it, so I designed a removable push handle and a small steering-lock-box mounted on the underside of the floor at the front of the wagon
. The lock-box was necessary because the wagon had a steering rack which I was going to need to lock into place and not allow it to turn when I was pushing it otherwise I'd be pushing it in circles all day. The handle worked well.

Later in the day I finally encountered a big long windy steep hill. Using the push handle for an extended period of time I realized that the wagon still pulled slightly to the right which to correct this I had to repeatedly push the wagon sideways and forward. An inefficient use of energy overtime. I pulled over and trimmed the handle down to make it shorter which made it more rigid and better to push. This was a significant improvement, but I was still going to have to remedy the lock-box. It was impossible to predict when I was nearing the top of the hill because the road was so windy. Every corner simply led to another corner still traveling upward. After taking several breaks and spending a large portion of the day climbing a very short distance I finally reached the summit. I put my headphones on and cranked some Ray LaMontagne, "You Are the Best Thing", singing a long as I walked (yes, I'm a dork) in the late afternoon sun surprised to be able to see the ocean from this altitude. It was all down hill from here into the town of Arroyo Grande where I would get a real dinner. No celery and peanutbutter tonight.

On my last walk, I averaged 30 to 35 miles a day. My load was around 100 lbs. The wagon was somewhere around 2.5 times that much. I don't even want to know how many miles I walked today. It wasn't much.

It was dark after dinner. Stashed the wagon and hoofed into town to find a grocery store to get some juice and water.



Jan. 17th, 2011, Arroyo Grande, CA
Got up and packed up camp in a nook of trees in back of an empty lot behind a gas station near the expressway on-ramp. Went by a hardware store to get a spare set of bearings, but they were out of stock, surprisingly. Barrelled up the steep little hill to the shopping plaza with a vengeance to get a few things done and chip away at my checklist that is finally getting smaller. Grabbed lunch wth my friend, Heather, who lives in AG. Designed and submitted a large print job at Officemax that would be ready sometime tomorrow. The blank sides of the wagon were starting to feel like a message in a bottle with nothing written on the piece of paper stuffed inside. In between breaks going up the big hill yesterday I started to write about why a 150 pound man would try to pull a 250 pound wagon 3,000 miles across an entire continent. I grew up in Massachusetts a middle-class kid on a white-collar career track. After graduating college, I abandoned it all for something my instincts told me was more important. I know my life is crazy and absurd to many and I haven't forgotten what it was like to be "normal" like everybody else and this, I hope, will help me explain to people why I think a person's spirit is more valuable than money. Walked around the outskirts of the shopping plaza and picked out a discreet place to camp for the night then sat down on the grass under a tree (in a different part of the parking lot) and played the guitar waiting for it to get dark. Kyle, at Officemax, called and told me my order was done a head of schedule. Walked over to get it. It wasn't. Worked in Officemax with John until after 8 while Job waited back at the tree by the wagon. Finally got it right and called it a night.



Jan. 18th, 2011, Arroyo Grande, CA
Got up, packed up, errands, headed out of plaza. Found a little field away from most of the traffic and faced the wagon towards the sun to do some writing. "Owl", as he goes by, pulled up in a brightly painted VW bus and walked over to be friendly. We talked for a while. He was not the stereotypical stoner driving around in a hippie mobile though I'm sure some who don't know better would classify him as one. He was sincere and attentive. He wants to work with animals and I gave him the email of a friend who works for a wildlife rescue organization near the town where Owl is planning to move. My power inverter was giving me a little trouble, so he offered to ride Job and I back up the hill to the shopping plaza so I could pick up another one. They're sold at most department stores that sell electronics. Chained the wagon to a pole at the edge of the field and we hopped in. After Owl and I said good-bye and wished each other well, Job and I headed out of town and walked passed the driveway of my friend, Olivia, who had recently moved to Arroyo Grande from Morro Bay. Not knowing that was where she lived, it was a great treat to get to see here and say good-bye to her, too. Headed through the lower farmland near the Arroyo Grande mesa and founded a road headed south out of town. Found a great little camping spot in a short stretch of woods on Los Berros Road. It was great to be out in the country, again, and away from all the cars and congestion.

*Owl, for reaching out a hand of friendship
*Trucker in red cab with silver trailer who swung wide on Los Berros Rd.

Thank you:
Joanie, for letting Job and I jump to do errands with her.

Met:
Richie, who pulled up and joined Owl and my conversation. It turned out that Owl knew his sons. He invited us both for dinner and music around the bonfire, "Praise Jesus", but I was eager to get a move on.



Jan. 19th, 2011, Nipomo, CA


Mounted the sign on wagon. Packed up and headed down the road. Hit a pretty good hill and reminded myself to work on the steering block some more. Camped in a group of trees near where the road crossed under the 101.

Met:
Steve, as I was having a late lunch along a stretch of farmland at the Los Berros Market and Deli. He drove a mini-van, was married with three kids and saw me walking, yesterday, and "just had to sit down and pick my brain a little." He commented on how normal I looked sitting there at the table outside the little market and how I could've been a guy he played ball with in school, so he was curious to know what I was doing with the wagon. He shared how the economy was making things difficult for he and his wife to provide for their family in living a modest life. We shook hands and wished each other luck.



Jan. 20th, 2011, Nipomo, CA
Worked on the steering lock-block
by shaving a piece of wood off one side and mounting on the the other to adjust the angle of the wheels more, headed down Thompson Ave into the small section of the town of Nipomo on the east side of the 101, grabbed a few groceries and kept on rolling. Today was a beautiful sunny, flat-road day. Stopped walking a little earlier than usual because the only way to head further south was to use the expressway bridge to cross the Santa Maria River (which is a large sand wash about a half a mile wide). Found a spot to camp in some coyote brush not far from the freeway and planned to get up early and cross the bridge when there was less traffic.



Jan. 21st, 2011, Santa Maria, CA


Cold last night. Crossed the expressway bridge into Santa Maria, located an industrial supplier that specializes in bearings and got a set of sealed bearings for the wagon wheels. 80 degrees today, passed by an outdoor ice skating rink(?) near a mall. It was a little soupy. Rosa who ran the skate rental stand said it was much better at night. Day dreamed about returning that night to go skating seeing as I'm an ex-hockey player, but that was another life. It was after dark as I headed out of the downtown area, found a spot to camp in the little island of bushes and small trees formed by the on-ramp to the freeway near Home Depot.



Jan. 22nd, 2011
Headed over to Home Depot to get a little a piece of pvc piping to make some bushings for the new bearings and a piece of wood to replace the piece I modified. Heard from Daniel through Couchsurfing.com, a site I learned about a few years ago when traveling through Europe, who I'd emailed yesterday. Traveling alone all these years has taught me to always rely on myself, but I decided, yesterday, to try using some of the resources that are available through the technology of today seeing as I could benefit from a shower. There are cool people out there and sites like Couchsurfing exist because of them. Got directions to his house and walked there. Met Daniel and Brice, one of his room-mates, who was on his way to the gym (and a big fan of labrador retreivers). They're in the Air Force along with their other roommate and owner of the house, Brian, who was out of town. Daniel showed me around and was, also, interested to meet Job and see the wagon I built, seeing as he was a Mechanical Engineer. Pulled the wagon around into the backyard, got Job situated and grabbed a shower. Installed the new bearings in the wheels, did some laundry and then took a break and talked with Daniel for a little while. He's lived in Santa Maria about a year and half into a four year commitment at Vandenberg Air Force Base not far from here. Growing up, he's lived in China, Michigan, Germany, and then Colorado where he went to college. Anthony, another friend came by and I joined them to head up to San Luis Obispo to grab some dinner, meet up with some friends and go to a blues dancing event at Cal-Poly. It's always surreal riding in a car watching the miles I'd spent days walking fly by in minutes. Had fun and danced a little blues, but as the night stretched on into the early morning I found myself focusing on all the work I should be doing on the wagon or on the book or concerning myself with how I was going to negotiate the busy freeways in southern California to get to a better vantage point to cross the Rockies.

Thank you:
Daniel Zheng, for extending his hospitality



Jan.23rd, 2011, Santa Maria, Ca
Up early, worked on gear, wrote, borrowed Daniel's bike and cruised down to the Fresh & Easy (cool store) with Job to stock up on groceries to leave tomorrow morning, went to church with Anthony. It had been a while since I'd gone to an organized religion service.


Jan. 24th, 2011, Santa Maria, Ca
Got up early while the guys were all getting ready to head to the base. As I got ready myself realizing I still had a backyard to work on my stuff, I decided to JB Weld the handle of the wagon which had been getting a little sloppy around the bolts holes with all the pushing and pulling done to it. Grabbed a couple more hours of much needed sleep while it cured. Got online and researched national temp agencies to see if it would be possible to get on file with one of them so it'd be easier to find work in the larger towns and cities I traveled through. Threaded the bolts back through the handle before the weld completely set up seeing as I didn't have a drill, nor did the guys, and wouldn't be able to when in it was completely hardened. Met Brian, Daniel asked when I'd be leaving, told him first thing in the morning, felt awkward, got the urge to leave right then, packed up the few things I had in the spare bedroom he had offered me and relocated everything outside.



Jan.25th, 2011, Los Alamos Valley, Ca
Got up and rolled out early. Never been one to ask for help. It was fine, but don't think I'll try it, again. Sunny day, hit some hills, wagon did good. Pickins were slim for camping spots where my day ended on the road through vineyards and stable ranches, but I found a little clearing around a telephone pole just off the road a little more visible than I prefer, but my rain cover is green and blends in pretty well and people driving the road had no reason to look in our direction.



Jan.26th, 2011, Los Olivos, Ca
As I walked along the long rows of privacy trees that framed the wealthy estate properties in the horse and vineyard land I was passing through, it just seemed a shame that so many people think that what you have is what will make you happy. I felt no joy emptying out the long driveways that met the road as I walked passed one after another. One might think it's silly to think you'd be able to feel anything walking past someone's driveway even if the people that lived there were the happiest people in the world, but if you walked past enough of them you'd be surprised how accurate your instincts can be when you get a feeling about something. On a natural path your instincts are all you have. I've visited and worked on many different types of farms all across America and you can tell a lot by the feeling you get when you pull into someone's driveway. All these driveways with all their acres and acres belonging to them said the same thing "Stay out. This is mine." It's too bad.

The first dose of joy I did experience sprayed me like the irrigation sprinkles scattered across the farmland I was now walking through. It came from the group of Mexicans working in the fields. A number of workers, it looked like mostly female, were riding on the back of a large wide farm implement that must have been a type of seeder while the men followed on foot working the soil with hoes and small shovels. Loud boisterous Spanish music blared out across the field over the roar of the tractor that lead the parade of workers. The lesson was obvious. I danced and wiggled a little as I passed by.

Took a break mid-day as Job was overheating a little in the hot sun. Broke out a reflective vest I had kept from a big construction job I'd worked up in Oregon and walked for part of the night to make up some ground.




Jan.27th, 2011, Moonshine Canyon, Ca
Packed up from a spot down below the freeway on-ramp, lifting the back end of the wagon to man-handle it back up the hill we'd come down last night I tweaked the axles a little and had to straighten them. Headed down the highway.

I can always tell when someone's staring at me. You get used to it. I was heading out of Buellton after grabbing some lunch and groceries at the supermarket and a person on a bicycle was heading towards me on the sidewalk, but they stopped about ten yards ahead of me. I caught them out of the corner of my eye because I was paying more attention to the late afternoon traffic in this small busy town. There was something familiar about their shape or their clothes.

A few days earlier, a few towns away, I was eating a pint of ice cream in the shade on the old porch in the downtown area of a tiny one-block town. My t-shirt as I walked was starting to feel like a flag flapping in the wind me being the pole, so I was an attempting to fatten up with a pint of Cherry Carcia.

"I thought I'd seen it all, but I've never seen anything like this."
I didn't look up from ice cream. I've been accused of being snobby, but it's my way of filtering out people who are just bored and think I'm some kind of tourist attraction from the people who are genuinely interested.

"Whattaya got in there?"
Still not looking up, "Dog food, camping equipment...my guitar..."
"Where you headed?"
"Boston", looking up. He was an older gentleman wearing sunglasses and plain clothes that hadn't come out of the washing machine today.
Reading the sign on the wagon, "Where's The Truth Farm?"
I pointed to my head.
In a subtle competitive tone, "I've hitch-hiked through 35 countries" as he continued down the side-walk, "Good luck to ya."
"Thank you very much, sir"

There he stood, again, straddling a bicycle speechless.
Eventually as I approached him, "Did you walk all the way from where I saw you the other day?"
"Yup."
"Do you know where to camp?"
"I camp every night."
"But, do you know where to camp?" still with a subtle underlying competitive tone. I looked up at him as I passed by. He was wearing the same clothes. Who was I to talk, so was I. He wasn't wearing sunglasses this time. His eyes were a little red and through his bushy grey beard I could see his teeth were in rough shape. I started to suspect he was homeless or one step away from being. "I'm heading south. I'll figure that out tonight", as I reached the other corner.

From behind me I heard with nothing, but sincerity "You're very courageous."
I stopped and looked back at him.
"Thank you very much. What's you name?"
"DeGrutis."
"DeGrutis?"
"Yah."
"I'm Chris. It's nice to meet you. Take good care of yourself and I'll see you next time around."
"Good luck", again very sincerely.

As we turned left and headed south out of town at the main intersection, I reached down and unhooked Job and he barreled ahead on the grass with his nose to the ground as we walked along a small park. I replayed the short little conversation I just had in my head and a sadness came over me. Sometimes I think my walking brings me back in time to a pace of life when interacting with one another had more substance than it does today when we simply look through each other as we pass. I remember how Cat, the young college student on her bike back in San Luis Obispo, shared how it was hard for her to ignore people as she walked through campus, but it was something she felt she was supposed to learn how to do. I hope she never does. At different moments both DeGrutis and I were being thick-headed, but we got there eventually and shared a moment on a busy street in the late afternoon. So what if he was a homeless person, I've met plenty and sometimes I think the pain that drives some of them to live on the streets makes them a little more human, at times, than the rest of us. It was the only conversation I'd had all day.

A state police officer pulled up when we were back on the 101 and walked over to us as I had stopped to get out my guitar. I'd been playing it as I walked, a little corny, but it was a tactic I had been using to combat the cars roaring past us all day. He didn't kick us off the freeway luckily. He asked if the dog rides in the wagon. I told him "No", but that I keep him on his leash as he was running around in the woods on the other side of the guard rail. I told him I'd prefer to not be walking here, but my other choice the 154 which was windy and a lot more dangerous. He agreed and told us to be safe. As he pulled away he rolled down his window and reminded me that I had to exit at every off-ramp. I told him I noticed the signs and would continue to do so. Phew.

Found a good camping spot in the mountain forest above the canyons that snaked under the freeway.

*Folks in white Ford Tempo who pulled up and wished me well as I was working.


Jan.28th, Las Cruces, Ca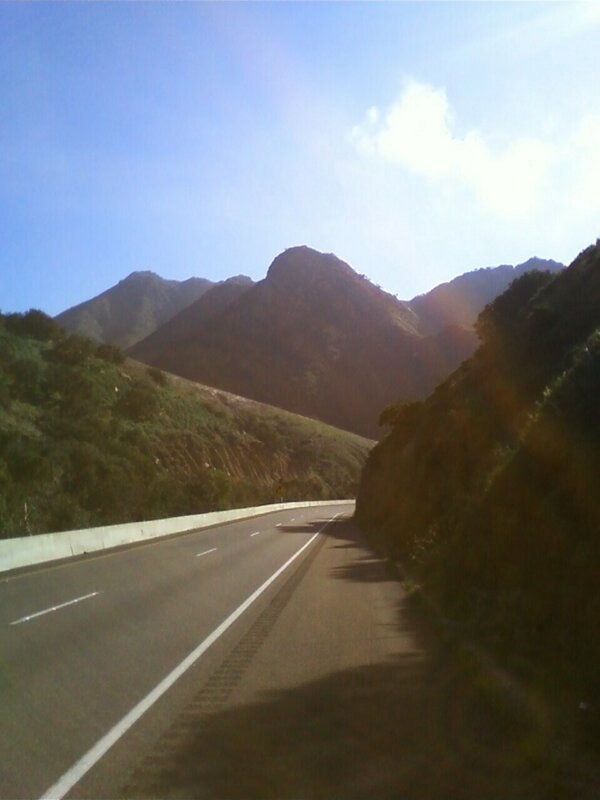 Climbed down the canyon and washed in the ice cold creek below. Packed up and headed out. A lot of traffic and a lot of long big hills. I've never been one to take in the tourist sites, but I definitely need to learn to stop and smell the roses more. Walking is my penance. Noticed there was a hot spring marked on the map somewhere nearby and decided to hike up the small mountain and find it after a long day.



Jan.29th, 2011, Refugio State Park, Ca.
The general store was closed and there was no camping at Gaviota State Park due to California state cut-backs. Rationed what food I had left. The store at the next park, Refugio State Park, wasn't open either. Got online and made a list of all the closest pizza businesses that delivered and bribed one of them to drive the extra 20 miles out to me. Had a large bbq chicken pizza and a six pack of Sprite for dinner. It's been years since I drank soda, but I was hungry and thirsty.


Jan.30th, 2011, Capitan, Ca, Sunday.
It was Sunday and I usually take the day off, but I decided to eat the remainder of my rationed food and head for the closest town. Unexpectedly, came to a little market and deli a few exits down the freeway, got a bunch of food and made camp.


Jan.31st, 2011, Goleta, Ca
Arrived back in civilization, got groceries and a hot meal by the afternoon. Became reminded of the contrast of being so far out in the country where camping spots are so easy to come by, but food isn't and being right in the middle of shopping plazas and neighborhoods where I can get almost anything I need except a quiet piece of ground to sleep on. I remember how nice it was to travel through other countries where camping is legal. Found a big vacant field that provided a few trees and a gully to disappear in beside the railroad tracks across the road from a busy shopping plazas.



Feb. 1st, 2011, Goleta, Ca
I sit here in a bank of laptop users at Starbucks like cows at a feeding trough listening to a woman go on about how hectic her day gets around 3 o'clock because her son is in soccer and her daughter is in ballet while the young Starbucks employee juggles three different orders in his head fending off the morning rush while smiling and politely responding to her goings-on. I run through the shopping plaza and across the street to another plaza to switch my laundry (it's so helpful only having one load to wash...not even a full one at that) leaving my laptop plugged in at the table and Job laying in the wagon's shade as it collects bountiful sunshine for the small wheelchair battery inside that powers all our electrical needs. The little bugger who was laying on the stones like a lizard somehow spotted me out of the corner of his eye coming out the door on the other side of the neatly hardscaped patio amidst all the other passers by because when I looked back at him 100 yards away his big head was up and pointed intently right at me saying "Hey, where are you going." I laughed to myself. Busted. How in the world did he see me?

Swapped clothes into the dryer, headed back to work on this blog, took Job with me next time, leaving the wagon. It's nice to be without it. We dodged the parade of middle-aged men in tight fitting brightly colored tour de France outfits waddling like a parade of chubby ducks in their cleated cycling shoes after finishing their smoothies. Folded the clothes in record time, got Job situated, and sat back down inside to finish this and get out of this Alice and Wonderland scene. Though I'm very thankful to have permission to be somewhere having bought a breakfast sandwich when the cute little blonde sat down across from me pulling out her pink mac with her matching pink iphone it was time to roll out blog be dammed. Sorry, I'm just not the cafe type. Do people really come her to work? Job and the field we slept in last night on this sunny day calls.

Came across a big park with an athletic field and parked the wagon there instead and wrote in the sun. Got some dinner at the supermarket and a movie at Redbox. Watched it in a dugout back of one of the three baseball diamonds at the athletic field. Didn't get any sleep. First, a dog came by and barked continually at us as it's owner kept a safe distance before I, finally, said "enough of this" and let Job run it off. Then a suspicious character came by around 1 am apparently collecting cans from the trash barrels distributed amply around the park, but when he came by a second time from a different direction clearly trying to size us up, it kept me sleeping with one eye open. My guess was he was either really dumb or carrying pepper spray or mace because Job let him know he didn't like him lurky around in the shadows, but it didn't deter him as effectively as it should have. The dew was like rain and the dugout roof although it was covered offered no shelter. Must just be for a shade, a sunny California thing.



Feb. 2nd, 2011, Goleta, Ca
Back to the field by the railroad tracks. Slept. Wrote. Set up camp in the early evening then went to Home Depot to get some hardware for the wagon and a machete for clearing away brush. Grabbed dinner at the super market and headed back to the field.



Feb. 3rd, 2011, Goleta, Ca
Wrote all day in the gully of the vacant field.



Feb. 4th, 2011, Goleta, Ca
Packed up, grabbed some breakfast and some groceries, made a laminated sign at Staples that read "DAY LABORER For Hire". I was going to have to pick up some work soon. Headed down the main road towards Santa Barbara all caught up with my writing enjoying the bright sunny day.

When we finally left the busy intersections of the shopping plazas and were passing a long stretch of grass I unhooked Job and let him stretch his legs a little. The sidewalk ended as the road ran along the grass and chain-link fence of the Santa Barbara airport, so I let Job walk ahead of me. Suddenly a police car pulled up out of no where and parked in front of me at a slight angle almost as if to prevent me from trying to walk around it. A woman police officer quickly got out and headed right for me.

I said "Hello", but she didn't amswer.
"Is that you dog?"
"Yes."
"Can you call him back here."
"Sure. Job! Over here." As Job jogged over, "Is this because he is off his leash?"
"Yup."
"Sorry about that. I usually keep him on his leash around all the busy traffic, but when we got to this area I let him off for a few minutes." I hooked Job back to my hip-belt.
"Can I see some form of i.d."
"O.k." handing it to her.
"So, what the heck is this thing?" gesturing to the wagon.
"Ya know, you're not being very friendly."
"Friendly?"
"Yes. You're being sort of aggressive."
"Well?" she asked.
I took a deep breath. "Why are you being so rude?"
"Alright, have a seat on the ground over there against the fence."
"You want me to sit on the ground? C'mon."
She took out her taser and pointed it at me. "You're going to shoot me with that because I don't want to sit on the ground? Are you serious?"
She put the taser back in it's holster as she called in back up. "Why are you being so hostile?"
"I'm not being hostile." I knew my questions weren't helping, but it was a beautiful sunny day and I was in a good mood and it all just seemed very unnecessary.
"Now, sit on the ground."
"Why do you have to be so rude? I really don't understand why I have to sit on the ground. How about 'please'? Can you say 'please'?"
"Please. Sit on the ground before I put you on the ground."
Laughing to myself as I sat down by the fence, "You really need to learn some manners, young lady."
"You're the one making this difficult", she said.
"I am? I'm actually a pretty nice friendly guy when people are nice to me. I just don't like being bullied. You'd get a much better response from people if you didn't have such an attitude. It's kind of embarrassing being made to sit on the ground in public while people drive by and stare."
"You're the one with the attitude" moving her head back and forth like she's on the Jerry Springer Show.
"Ok, ya know what? At this point, maybe I do. We both have attitudes."
"Alright, maybe I'll give you that."
"Just sit there and don't move. Do you have any outstanding warrants or recent arrests?"
"No."
"Have you ever been arrested?"
"Yes. Along time ago when I was a kid [when I was 20 for drinking beer on the beach one night with some friends]."
"What's in the wagon?"
"Dog food, camping equipment. I'm walking across America, working on a book. I might even start speaking at schools."
"What's the book about? What would you be speaking about."
"It may sound corny to you, but it's about following your heart. I just think a lot of young people getting out of college, or high school for that matter, get confronted with the reality that everything they've learned doesn't mean as much as they though it would and they're just suppose to forget all their hopes and dreams and just join the rat race. I think there's more to life than that and I think a lot of people can relate to this."
"That's pretty good, actually."

She went to her vehicle. After a few minutes she returned.
"I'm going to ask you, again. Do you have any warrants or recent arrests?"
"No, I don't." Then I remembered, "Oh, there was one other time 10 years ago for disturbing the peace. I was in a hospital emergency waiting room trying to get help, but that was dropped."
"How long where you on probation?"
"Probation? I wasn't. The charges were dropped."
"Do you want to start telling me the truth? I have on file you were recently arrested for cocaine possession and have a history of drug charges against you."
"What?"
"You want to start telling me the truth?"
"That is absolutely preposterous." She stood there looking down at me. "I'm sure you hear this all the time from criminals you question so I don't expect you to believe me, but that is completely absurd. I don't know where you got that information."
Two more cruisers arrived and the officers talked amongst themselves then the other two came over to me, one on either side of me.
"The dog's a real sweety" she said to the officer on my right.
"Can I say 'hi' to him?" he asked me.
"Sure. Job, (who was laying by my side) you can say 'hi'." Job stood up wagging his tail and the policer patted him on the head.
"Good looking dog."
The other officer on my left who was leaning towards me his hands on his knees asked, "So you're a writer? I'm kind of an avid writer myself. Do you have any advice on how to get published?"
"Well, I'm not an expert. I actually met a nice Christian family in Tennessee when I was walking though that area and the father had a publishing company. He told me to send me a copy of the book when I finished. He really thought what I was doing was worthwhile. I've looked online a little as well and there a lot of self-publishing websites, but I haven't looked into to them that much, yet."
"Does this solar panel really work?" the other officer asked who was, now, standing by the wagon.
"Yes."
"Wow, what do you use it for? How does it work?"
"I use it to charge my laptop, my phone, electric razor. There's three components. The panel, the battery, mine is a small wheel-chair battery that holds a lot of power for it's size seeing as it's designed to push a person around all day and the charge controller which is used in between the panel and the battery to regulate the charged and optimize battery life."
"Nice. Is there anything in here that you shouldn't have? Any weapons?"
"No. There is a camping machete. I use sometimes to clear brush when I'm setting up camp in the woods."
"That's ok."
"No drugs are anything?"
"No, I don't do drugs of any kind. Feel free to look all you like."
"I want ranksack it, but I might take a few things out if it's ok.
"Sure."
The female officer came back and handed me my citation and told me to sign it. As I signed it I asked her how much it was, but she said she didn't know and that I'd have to contact the court. I stood up and the officers began to leave.
To the female officer, "Excuse me, but if a person didn't have a record or history of drug charges, but was told they did how would they go about resolving the matter?"
"I've got nothing to do with that."
"I understand. But, hypothetically, if it wasn't true could you suggest how a person might go about getting it cleared up?"
"You'd have to contact the courts that convicted you."
"But, what if you were never convicted? How would you know what court to contact?"
The male officer to my right sort of looked at her expectantly. "I guess I could check the computer again and see where the charges were from" she said returning to her vehicle. A few moments later, she returned.
"It was a mistake. They gave me the wrong info."
All officers heading for the vehicles, "So I don't have a history of ank kind of drug charges do I, mam?"
"No, you don't", getting into her vehicle and driving off.

I just stood there shaking my head. Looking down at the ticket, I dreaded to find out how much it was going to put a dent in my finances. As I continued down the road with Job on his leash, a young woman rolled by on her bicycle and stopped just ahead of me.

As I approached her she asked, "When you're done with your call, I was wondering if I could ask you what happened with the police back there."

I was talking to my friend, Nate, back in NYC to try and have a laugh about the whole ordeal. I told him I'd call him right back. She was on her lunch break from Raytheon where she worked as an engineer and shared how since transferring out here from Boston she'd notice how "overzealous" the police department was. We talked for a few minutes. She was very helpful. I told her how as part of my trip I would be stopping at organic farms, intentional communities, and alternative schools. She pointed me in the direction of their local food co-op not far from where we were. A food co-op often works with local farms in the area bringing good wholesome food to those who want to support farming and their local economy. She offered to even help me pay for the ticket feeling bad about that being my introduction to the area. I told her I couldn't let her do that, but I'd be up for meeting up later if she wasn't busy. We exchanged numbers and planned to talk later.

I headed past the University of California, Santa Barbara located in the small unincorporated area of Isla Vista, met the warm friendly people working at the food co-op and had a great meeting with Melissa, the co-op's manager. She hooked me up with a big hearty sandwich that Katelyn, an employee of the co-op, made for me and I sat outside with Job at the tables and ate it. Before leaving, Melissa made sure I had her number in case I needed a place to camp. Her boyfriend, who was leasing some land and farming himself, and her already had dinner plans, but she wanted to make sure I called if I needed to.

Seeing as though I wasn't much more than a block from the ocean, I decided to walk over to the beach and get my bearings. As I was leaving the little grassy area near the staircase that carried you down the cliff to the beach Jamie, a pretty college girl, walked across the street towards me from the brightly painted party house on the corner. She introduced herself and we talked for a minute as the guys from across the street all yelled "Hey man, what's in the box! Whattaya got in the box!" They yelled for her to bring me over to the party, so we walked across the street and met everyone. I had a beer, joked and talked with everyone. They were very friendly and fun. I had to keep my eye on Job, the loud music and the girls kneeling down and hugging his neck was a little overwhelming for him. Most fixed dogs are like big teddy bears giving people who are not used to being around animals an inaccurate impression, but Job is a big strong male dog and though he's very friendly he doesn't like being man-handled by people he hasn't gotten a chance to become familiar with first, but everyone was great. Megan told me I could park my wagon across the street at their house and grab a shower if I wanted. It was momentarily entertaining to be immersed in a college party scene which I easily remembered from my own collegiate days, but I had unfinished business on my mind, so I opted to meet up with Debbie when she called and have a chiller evening. We talked about many things. Though she had a successful job, working for one of the biggest military contractors in the world posed her with a personal moral dilemma. Job and I crashed in Debbie's garage which was semi-converted into a hang out room with carpet and a couch.

Thank you:
Debbie, for her help and friendship
Melissa Cohen, for her time and enthusiasm
Katelyn, for the sandwich
Megan, for letting me park the wagon at her place.

Met:
Everyone at the Isla Vista Food Co-Op
Stace, party boy
Drew, big kahuna
The guys at the Mural house
The girls from across the street

*Debbie, for stopping, reaching out and being so helpful
*Jamie, for being so friendly



Feb. 5th, 2011, Santa Barbara, Ca
On her way to church, Debbie dropped me off back at party central to get my wagon which was locked up and parked at Megan's house alongside all the bicycles by the driveway. Drew was crossing the street in front of us and came over to say "what's up." I thanked Debbie for everything and she insisted in making a donation to the off-leash-ticket fund, so I took Drew out for breakfast before heading back over to the little grassy spot across the street to get some work done. Taking a break from writing I found a keg still tapped washed up on the beach and carried it up the stairs on my shoulders. Drew spotted me from across the street and the party was about to start, again. It was almost empty and luckily the manager at the liquor store wouldn't be in 'til 1 pm to compensate us with free alcohol for returning one of their kegs and tap. Told Drew it was all him and headed out of "college town" and found a nice bike path that winded through woods and marsh bringing me halfway to Santa Barbara. There was a film-festival this weekend with lots of stars in attendance, so I broke out a pair of clean khakis and white dress shirt I kept wrapped in plastic tucked away under everything in the wagon, stringed the Christmas lights on the wagon and headed through the thick of it with Job wearing his formal black. Grabbed some dinner at an outside patio on State St. Though it'd been a full two days, partying or being festive wasn't really where I was at and Job and I retired in the back of an empty office building behind some bushes on a quiet side-street.

Each time I've walked across the country, I've tried to come up with a project that would contribute to possible solutions to issues we face as a population living in a country where money is the number one priority over community. This year I hoped to visit the places I mentioned previously to see for myself examples of how other people are choosing to address such issues in a positive way and to compile the information on my new website so others can see it and be encouraged as well. If the system, the way it is now, does not provide us with ample ways of plugging ourselves into real working solutions to concerns we face as a country then going a long with everything and waiting around for this to happen will never be a viable option to me.



Feb. 6th, 2011, Los Angeles, California, Sunday
Talked to a good friend in LA which was only an hour and 1/2 drive from where I was, he insisted I come down to watch the super bowl with our other friend who was having a get together at his place in the Hollywood Hills. They were both in show business. The three of us met in college. They were football players and I was a hockey player. Each one of us crossed the tracks into the creative world of acting, writing, directing and music individually, but, also, together and made a pact to always support one another. From very humble beginnings, they are both successful in their fields. One a model and an actor. The other, an actor and a musician. But, the big city wasn't for me, neither was the business of show business so I took the road less traveled, but it'd be great to see them. I'm very proud of both of them. We talked about how to get me down there, but I didn't want him over extending himself in the time it would take to drive up and get me if I were to stash the wagon somewhere before the game started. They are into following sports much more than I am. He, also, had a midnight gig at club in LA, so I rented a truck, found a loading dock behind some industrial buildings and wheeled the wagon in back.

It was great to see my friends and pretend for a couple of hours I wasn't living in a very different reality than a Hollywood superbowl party.




Feb. 7th, 20011, Montecito, Ca
Drove back up to Santa Barbara in the morining, off-loaded the wagon, returned the truck and headed out of town. The homeless element in Santa Barbara and the city's attitude towards it made it less than welcoming to be traveling through there on foot, so I thought it best to keep moving.
Camped by a small brook.



Feb. 8th, Carpinteria, CA


I picked up the heavy end of the wagon and tried to man-handle it up the banks of the little brook we camped beside last night. I should have known getting out would prove more difficult, but it was dark and it was the only spot out of sight to choose from. The banks were too steep and it flipped. I jumped around and righted the wagon with a burst of panicked energy. Luckly nothing, but a bottle of juice and Job's bowls fell out into the shallow water scattered with rocks. Assessing the damage, I could see that the steering rack had become dislocated and the back right wheel which had beared the brunt of the wagon's weight before flipping was bent like a pretzel. The front wheel on the same side was, also, warped considerably. I set the steering rack back into place, removed the worse of the wheels and flexed over a crowned rock in the creek until it was reshaped enough to roll. I had a spare wheel mounted on the underside of the wagon, but I wasn't going to do anymore work until I was out of there. There was a dirt road about 20 yards along the bank of the other side of the creek that outlined the perimeter of an avocado farm and I was completely visible from there. I pushed and pulled the wagon gradually up out of there and into a little triangle-shaped clearing of tall grass made by the beginning of a private road and the curve of the creek before running under the main road I had been walking on yesterday. Got out to the road and swapped the wheels around so the bad ones weren't both on the same side. The pretzeled wheel had surprisingly straightened itself a little more enough to not merit putting on the spare. Ran back down to the camp spot to make sure nothing else had fallen out and to pick up the a few empty beer cans that littered the area. I always make sure to pick up whatever trash is around where I camp, so if anyone ever sees me leaving the area they don't think I was the one who left it (and to leave the spot better than I found it). A mile or so down the road, I realized I forgot to eat breakfast which I do alot and stopped at a quiet spot along the road where a short row of large boulders stood. Sat on one in the sun and had a an apple with peanut butter and a banana.

Was happy to make it to the town of Carpinteria by late afternoon where the was a state park I planned to get a site at for a day or two and catch up on writing. Stopped at a power equipment shop to see if they had any oversized lawn mower wheels which is what I used for the wagon. He said he'd just sold his last pair the other day, but that he could order me a couple. It would only take a day or two, so I told him to go ahead and order them. My plan was to get a campsite for a couple days at the state park here in town and do a lot of writing. I could pick up the wheels when I headed out of town. I was looking forward to getting a campsite rather than camping incognito. Went by the grocery store to get some food for the next couple days so I could concentrate on writing and enjoy the fact that I had permission to be somewhere. When I arrived at the quite seaside park I was told that because I would be staying in a campsite designated for people who were hiking or biking that I could only stay for one night and that I would have to be out by 9 am the next morning. I asked how long people could stay who drove and got the sites for cars and r.v.'s and she told me 15 days. She told me the policy was different for people on foot or bikes because it was assumed they would be on their way somewhere else and just staying for the night. This didn't make any sense to me. I asked her who made the rules such as this for the park and she told me the governor of California does. She told me I could get a car or r.v. site for $35/night and stay as long as every one else, but I no longer had any desire to stay there. Went back out to the main road, and realized on of the tires had lost it's tread, put on the spare, got online looked for other campgrounds, considered heading further south and out of this area, but didn't want to with out an extra wheel, decided to head back towards the beach as it was getting dark now, parked the wagon out of sight and walked the perimeter of the town and finally found some nature trails that winded out into the marsh on the north side of town and went back and got the wagon. Set up camp, ate and went to sleep, was woken in the middle of night as Job tore off into the night after a racoon that was dumb enough to try to get at his food. When I caught up to the them they were in a creek chest deep in mud tearing each other a part and making more noise than a bag of cats in a clothes dryer. As tried to reach down with out falling into the swamp of low tide muck Job got hold of the coon again and thrashed it again and again each time stopping for a second to sink his jaws deeper into it's torsoe. There was no stopping him, now. The coon would only lay there and suffer if I broke it up, now. When the coon had passed, I ordered him to bring himself and the coon up out of the creek, told him to go lay down a few yards away, reached down and placed my hand on the coon's head, said a prayer and tossed it back into the creek for it to wash out when the tide came back in. There was no chance of finding water deep enough right now for Job to jump in and wash the thick suit of mud he was wearing so he had a cold night sleeping curled up a good foot away from me and the sleeping bag which I usually let him share on night's like this.



Feb. 9th, 2011, Carpinteria, Ca
Got up at dawn to get out of there and away from the scene of mayhem from the night before. The rain cover I use to keep off the dew folded like cardboard with the layer of ice it had on it. Stopped by a vacant beachfront condo and borrowed the house to wash off Job who was looking like Cujo, by now. Headed out to the main road and found a place serving breakfast that had a patio and got a hot meal. Went by the library to maybe do some writing there, but it wasn't open yet, so I headed back to the public park near the beach adjacent to the state park and parked the wagon in the sun. Job had drived off by now, but was still pretty dirty, so I brought him over to the outdoor beach shower and fountain and gave him another washing. He let out a loud sharp yelp when I touched his right ear. It was inflamed and had number of scratches on the inside of it. They weren't to deep, so I didn't think it was an infection causing the swelling which would be more serious than trauma caused swelling. Let him dry off by rolling around on the grass in the sun as I found a spot to sit down for a little while and write. Folded down of the sides of the wagon which forms a little table, plugged in my laptop and began to get some work done. A police car pulled up and parked at the sidewalk directly across from where we were sitting in the grass. I kept working. After a few minutes he drove off. Then a woman yelled from behind me "Hey!" and it seemed to be aimed in my direction. I don't respond well to "Hey!" and kept writing.

"Does your dog bite!"
I turned around. There was a woman about 20 yards down the sidewalk holding a thin golden retriever mix.
"Is your dog on a leash!"
"Yes," I said.
"Is your dog on a leash!"
"Yes!" I said, again.

She walked passed us on the grass and then let her dog of it's leash to run around. A few minutes later a man with a big Schnauzer arrived and let his dog run off leash as well. Eventually, the Schnauzer ran over to us and stood over Job who was laying beside me. The Schnauzer stepped even closer standing tall. Job doesn't move a muscle unless I say it's ok (Well, accept when I'm sleeping and wild animals are encroaching on our campsite), so he just laid there looking up at the curly haired dog. I said "Ok, you can get up." I figured since the other owners were letting their dogs run off leash it'd be ok to let Job, too. Stood up he did. Right up onto his back legs as he came down on the Schnauzer pummeling the dog into the ground. I guess he didn't like what the Schnauzer was saying standing over him like that. I got a hold of Job who didn't hurt the dog, nor was he trying to. He was just sending him a message. I felt bad and apologized sincerely to the owner of the other dog who was running across the field by now as the Schnauzer was running towards him. Packed up the wagon and headed out of town. There seemed to be weird energy floating around and I wanted to get away from it. I had found an organic farm when I was online earlier that was in the area and after getting a few more groceries and a new bag of dog food we headed in that direction on hwy. 192. Job's had baby chickens, kittens, baby foxes, a baby bobcat, even a baby kangaroo climb all over him when I worked at a private zoo for a short time. He's very gentle when he's suppose to be, but dog to dog when they're about the same size I let them work it out. Healthy dogs don't try to hurt each other when they get a little physical. They're just establishing order in the pack. If one dog doesn't automatically become submissive when they meet, they need to figure it out, but for inexperienced owners it's a little overwhelming.

It was hot and 192 had no bike lane or paved shoulder. Cars wizzed by in both directions and I pulled the wagon over when I could as cars passed on my side. This made it slow going. I wasn't planning on visiting the farm today. I still had a lot of work to do, but I figured I'd find a quite spot out of town to get some work done and camp for the night so when I did get to the farm I'd have some positive productive energy with me. Both sides of the roads were fenced in all the way down the road for miles. Apparently, I later learned, avocado theft is a sensitive subject around here which added another strike against traveling on foot this area as I felt farmers eye-balling me as I passed their properties. After leaving Job and the wagon by the road side I went on ahead around a corner or two to see if it would even be worth continuing before having to head back to town and head south on the main road that ran parallel to the 101. After almost getting discouraged, I finally found a little group of trees on the corner of a side road that met hwy.192. We parked in the dirt turnout near the intersection, I pulled out the laptop and got some work done as we waited for it to get dark.

*Woman in small s.u.v who pulled out of the long fancy driveway near where I left Job and the wagon and asked if I needed any help.



Feb. 10th-13th, 2011, Carpinteria, CA
Though there was a lot of traffic on this road for it's size, most likely because of the private school just around the corner, the camping spot sufficed. If I was going to do as much work writing as I'd planned, I decided I'd head back over to the turn out where there was a lot more direct sunlight. I sat and worked all day, feeling the looks of all the passers by. As I was investigating a possible spot to camp just down the road yesterday, a man in a brand new mustang stopped and said "You're not going to sleep there are you?" but drove off quickly as I walked towards him and said "Excuse me?" I knew I wasn't doing anything wrong by sitting in the sun working on my laptop, but it seemed some people wanted to make me feel like I was. Then about mid-day, a new white Taurus was turning around in the turn out. The older woman driving got a good look at me, as her car scraped a little in one of the big wholes to my left. I kept working. The car stopped just behind me. I heard the window go down and the woman said "You look like a nice, successful young man. I know you may be traveling, but I know you're not homeless."
"Thank you very much", I said.
"What's your name?"
"Christopher."
"Oh, now, I like you even more. That's my grandson's name."
I smiled, "What's yours?"
"Patricia."
"It's nice to meet you, Patricia."
"Have a wonderful trip and be safe."
"Thank you."

Not long after, Tim, a teacher, who happened to got to Bowdoin College back in Maine, a school my brother had coached a summer hockey camp at, stopped to say "Hello" and wish me well. Then, in the early afternoon, a young guy in an old Dodge diesel drove by and I laughed a little when I saw the Vermont license plate. The green plates are unmistakable. A few minutes later, the truck came back and the young man asked "How's it going?" with a smile. I noticed how his sunglasses were pretty stylish for someone driving an Old dodge pick-up. We talked for a minute or two as he learnt a little bit about my trip, the solar panel powering my laptop, etc. As the conversation touched upon the atmosphere I'd encountered the last few days, he asked if there was anything I might need. I told him all I really wanted was a place to sit and write and I realized that this corner may not be the best solution especially with a very affluent preparatory school (I'd Googled it) just the down the road, but I was just trying to make the best of it. He empathized and explained how people are a little protective of this corner.

"Well, we actually have an organic farm just up the road. We might be able to offer you a spot where you could take a break from being so visible and get your work done for a day or two if you think you'd be interested in something like that. I'd just want to talk to my wife first before I could say for sure."
"Wow, that'd be great if it worked out, but no worries if it doesn't."

We parted ways, I thanked him for being friendly, he wished me luck, just in case we didn't see each other in a little while, and I went back to my writing. Later that afternoon, the young man and his wife returned in the truck. They were sensitive to the fact that I might not want to load my wagon into the truck and ride up to their farm, but it was really the only way they'd be able to invite me. I agreed as long as I could get dropped off right back where we were. Turns out the organic farm they lived was a 1,600 acre ranch where they grew organic lemons and avacados that has been in their family for four generations and for security reason I wouldn't have been able to just walk through the gate. The property was a little bit out of a fairy tale and so were my accommodations had a chosen to accept them, but I was happy to camp on the perfectly landscaped lawn (I still have issues accepting help) surrounded by banana trees off to the side of their beautiful home, one of many on the ranch. For reasons they expressed regarding privacy I won't go into the details or use their names, but needless to say I went from almost feeling like an outcast to almost feeling like royalty all because I chose to sit on a corner and say "I'm don't want to make any trouble. I just want to keep to myself and write."





*Patricia
*Tim
*And a couple of "so-called spiritual seekers":)

Met:
Kelvin and Monica, who were up visiting from LA

Thank you:
J. and R. for your hospitality and generosity



Feb. 14th, 2011, Carpinteria, Ca
Loaded the wagon into the back of one of the farm trucks, said good-bye to the lady of the house with a big hug, her man and I headed into town to drop me off. Said good-bye to him and headed over to the power equipment shop where I had ordered my new wheels to see if they were in. I was back tracking a little, but I'd called him on Saturday and they hadn't come in yet, so I wanted to go by in person instead of just calling. He'd told me probably tomorrow. Thought about going to the library to do some writing, but decided to head south out of town and find a camping spot to leave the wagon so I didn't stick out so much if I was going to be there another day. Came across some walking trails and a small groups of trees a few miles out of town. I couldn't set up camp til dark, but I thought there was enough here to work with. Sat down on a bench by a baseball diamond and soccer field and wrote. Camped in a thick group of trees and bushes along the freeway.



Feb. 15th, 2011, Carpinteria, Ca
Left camp set up as Job and I walked back into town. The wheels weren't in yet. He said that he had to re-order them from a different place and that it would just be a day or two. I wasn't going to stick around any longer. I'd pick up some at the next big town I came to. Got some groceries and went by the library to do some writing and work on the new website while Job waited outside on the grass tied up. I realized that part of why the police, the rules at the campground and people's stares were taking more of a toll on me than they ever before was 1. I was less mobile with the wagon compared to a back-pack or smaller rigs I'd had in the past when I was passing by too fast to let any negative vibes have much of an affect on me, 2. I was more visible with the wagon which was deliberate because compared to other walks this year I wanted to make more of a statement and accomplish more, 3. the statement I wanted make still needed to be put into words and actions to handle what ever energy was around me and turn it into something positive. The wagon and the new website are going to be the tools I used to do this.

Got a lot done. Grabbed Job and walked back to camp just after dark, but before the rain.



Feb. 16th, 2011, Ventura, Ca
Packed up in the rain and headed south. Sun came out by mid-day. Walked along the ocean and got to Ventura by the end of the day. Kept going right through the city and camped just south of it. To stay clear of the homeless/police element. It was a good 20 mile day. Got in touch with a friend, Greg, who just happened to call yesterday who was from Ventura. We met a year and half ago when he was doing water sampling on the conservation land I was care-taking. Plan to catch up with him tomorrow night or Friday morning. Camped in a row trees between the edge of an ag field and a concrete aqueduct.



Feb. 17th, 2011, Ventura, Ca
Of course the state park just south of the city was closed even though I'd called yesterday and there was no mention of it on their automated system. Motel 6-ed it. Got showered, shaved and did laundry. I treat myself every couple of months. Felt great. When I spoke to Greg, I mentioned that I was looking for work, so I wanted to be organized, rested and ready to roll if the opportunity presented itself.



Feb. 18th, 2011, Ventura, Ca
Walked over to Greg's office which turned out to be just on the other side of the freeway to meet up for breakfast, turned out he had a meeting he'd forgotten about, so I killed time by getting online and listing all the hardware stores in the area to track down some new wheels. Had breakfast with Greg, his wife, Laura and their friend, Less. Greg had an old Toyota Corolla that wasn't pretty, but ran and told me I could use it if it would help me do some errands. Left the wagon in the parking garage of the office building which had an automatic security gate and after checking a few hardware stores and lawnmower repair shops, found a pair of wheels at Loews. Headed back to the garage and installed the new wheels. Greg called and told me some friends of his were getting together at the home of his friend, Helen, who had offered to let Job and I stay there if I wanted with her room-mate, Peter. Did some writing and then headed over to Helen's. The truth of it is a car is just as good as a tent to me, so I didn't really need a place to stay (with or without the car), but I'd still be nice to meet some new people and have a good meal. Helen had a very nice double-wide in a mobile home park. They were a friendly boisterous group. "Burners", apparently, are people who go to Burning Man which is, for those who don't know, is an annual gathering in the Black Rock Desert of northern Nevada lasting a week long. It started in 1986 and last year it's attendance was over 50,000 people. I've never attended one, but it seems that art, self-expression and acceptance are the predominating themes. I crashed on Helen's couch with Job on the floor beside me.

Met: Laura, Less, Helen, Dora (Peter), Maxwell, Bert, Jane, Lynn, Lisa (a fellow traveler), Jason, and everyone else

Thank you: Greg Reide



Feb. 19th, 2011, Ventura, Ca
Drove out to the country let Job run around wrote in car.

Met: John, Dee, and James



Feb. 20th, 2011, Ventura, Ca
Helped prepare Sunday brunch at Helen's for their friend, Margaret's, birthday. When I tried to settle down up on the central coast of California in Los Osos the closest thing I had to family for a short while was the folks at Clark Valley Farm. It had been bothering me for a month that I didn't ge the chance to say good-bye to them before I left. I was preoccupied with preparing for my trip. taking advantage of the fact that I had the use of a car I drove to Los Osos, picked up some flowers, went by the farm to say good-bye properly. No one was home. They were all out at the other farm in Pozo (which was completely off the grid). Crashed on the couch. Some of them would be back in the early morning to feed the horses.

Met: Brian, Tonia, Irene, Chuck, Margaret, Space Cat, Jason, Poland, John, Dee, James, and everyone else.



Feb. 21st, 2011 Los Osos, CA
Said good-bye to Brant my "little" brother, and his mum, my friend, Dana. Drove back down to Ventura to meet Greg and look at a job he had for me putting in a new flagstone patio. Researched the most economical way to demo and remove existing patio and landscaping. Compared getting different sized dumpsters, but ended up resolving to do it the old fashion way with a pick-up and wheel barrow.



Feb. 22nd, 2011, Ventura, Ca
Worked busting up old brick and concrete patio. Two trips to the transfer station, 4,220 lb. Saved at least 200 bucks doing it by hand. Crashed in an extra van Greg had for work.



Feb. 23rd, 2011, Ventura, Ca
Worked tearing up old brick walkway, trees and plants. Crashed in van.



Feb. 24th, 2011, Ventura, Ca
Worked on wagon, took it completely apart, reset axles, and made a new handle. Crashed in van.



Feb. 25th, 2011, Ventura, Ca
Designed a quicker way to swap from the pulling handle to the pushing handle and made it. Got invited to private dinner at Frankie's restaurant. Crashed at Helen's in a beanbag chair.

Met: The helpful guys at Paul's Plumbing, Chris, Kate, Julia and everyone else



Feb. 26th, 2011, Ventura, Ca
Worked on patio job with Greg digging up old pipe trying to figure out the old drainage system. Starting to get antsy. The job is getting bigger, but I'm happy to have work so I can't complain. Drove up to Ojai, Ca with Greg which is about 12 miles away, to see the snow they got last night. Crashed on Helen's couch who was away for the weekend.

Met: Chris, Laura and Kate



Feb. 27th, 2011
Worked on patio with Greg designing a new drainage system. Progress was slow. Crashed on Helen's couch.



Feb. 28th, 2011, Ventura, Ca
Worked on patio job busting out more concrete and removing dirt and sand. 2,480 lb at the transfer station. Got online after work to research the area around Ventura to see if I can find some woods to camp in. Staying on people's couches, as friendly as everyone has been, is not for me. I need to get back outside.



March 1st, 2011, Oxnard, Ca
Ventura is too big of a city to camp on the outskirts of and walk into every morning to work and then back out everynight. Going to have to look on craig's list for a room to rent or get permission to camp on some land in the area until I finish this job. Checked another state park (that was open), but they didn't allow tent camping. Found an r.v. park that did, but it was $50/night for a tent. Found a county park and campground, but they were closed. Drove around the perimeter of the city looking for a roads that winded up into the surrounding canyons that might have a dead end dirt road were I could park and hike up into the woods and camp at night. The longest most promising one was gated off by the county right where it began, the next ended at private ranch, and another was populated with farms, ranches, and houses and I eventually drove too far out to make it worthwhile to continue any further. Returned Greg's car, declined an invitation to join him and his wife's family for dinner, packed up the wagon, and left the residential neighborhood around 8pm, walked until 11:30 and found a great spot to camp in the country north of Oxnard, Ca. Of course, I back tracked a little once I got out of the city and walked north, first, to overlap where I'd left off walking before meeting up with Greg last week. It felt so good to be back sitting on the ground in a quiet little spot where no one would mess with me and where Job could run around. The state park system has become a farce. They put up a fence around a nice piece of land, charge people three times what they used to, and, now, because of the state's inefficiency most of them are closed so no one can enjoy them. I don't like being negative, but I, also, don't like being penalized because of the system's blatant incompetence. It doesn't take rocket science to run a campground. I was, also, mad at myself for giving in to the temptation of using Greg's car while I was in Ventura working. The mind is weak and a creature of habit and can get lured in easily. It's amazing how I went from feeling completely trapped and frustrated when I started walking tonight to mellow, peaceful and happy by the time I reached my destination. All I had to do was listen to my heart and walk away from the temptation. As simple as it sounds, it's not always easy. Greg was just being generous. He even went so far as to offer me a camper he had in storage and the called around to his friends to find a place to park it. I left on this journey to find a way back to happier more naturally harmonious life because I believed it exists. I have to be able to give up all the things we're convinced we need to show people we can get there without them.

I chose a location that is not a far walk to a main road where I can catch a ride back to Ventura and finish the job I started. My campsite is remote enough that I should be able to leave it set up and return here every night after work. Home sweet home.



March 2nd, 2011, Ventura, Ca
Wrote at camp.



March 3rd, 2011, Ventura, Ca
Walked into Ventura. Greg met me halfway. Worked on patio.



March 4th, 2011, Ventura, Ca
Slept in truck. Worked on the patio. Greg dropped me off near my campsite that night with a bicycle he was letting me borrow. Moved camp deeper into the woods to a really cool spot I had scoped out a few nights ago. Finished setting up aroud 2 am and crashed.



March 5th, 2011, Ventura, Ca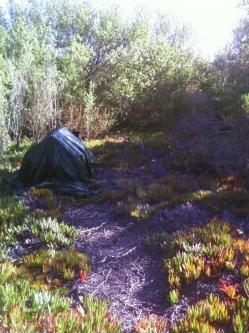 Wrote at camp. Laptop died. I was just sitting down to do some more writing in my new secluded green courtyard like campsite when the screen on my laptop suddenly when completely black just as I tilted it a little bit more me towards to block out the glare from the sun. As I tried to figure out why it went black I began to smell something burning and the internal fan started blowing at an alarming rate. Quickly looking for a tool, I grabbed my small jack knife and used it to unlock the battery from the underside of the laptop and remove it, but I feared it was too late. My laptop had fried itself. Looks like I won't be writing in this blog as frequently as I'm used to. Today was the day before Ash Wednesday, the beginning of Lent, so this year I was giving up my laptop. Though it was a major disappointment and a crushing blow to my already limited resources, I felt liberated. I pulled out my clippers, plugged them into my solar powered wagon, and gave myself a haircut (what little I have left), packed up camp, covered the wagon and left it there, grabbed the bicycle and took Job for a run. It was a warm sunny Saturday. As we were going for our ride, I heard from Greg and he asked me if I wanted to go to a Mardi Gras celebration in the cool little town of Ojai about 15 miles away in the Ojai Valley at the base of the Topatopa Mountains. Though my Irish Catholic work ethic rarely allows me to commit to anything for the sole reason of having fun, I thought it was an appropriate event now that the my journey had just taken another new twist. It was too late in the day to try to get back to camp and walk there with the wagon though that would have been really fun sporting the Christmas lights and a lot of physical work which would satisfy both my work and play requirements. I'd been thinking lately of making a pair of wings that attached to the back of my shirt and handing out flowers to people (probably women mostly) as I pulled my wagon through cities when I felt I needed a little comic relief from this sometimes grueling trip. Mardi Gras would have been a great occasion to kick off the idea. Greg who had also gone for a bike ride was now driving back to his house. I told him we'd head in that direction and meet him there in a little while. Pedaling a bike is an easy for me, but it gives me an unfair advantage over Job when traveling long distances or short distances in a hurry. I usually have a reinfoced bike trailer for him to hop in periodically when we'd gone for rides in the past, but this was a temporary loner and I had no trailer, so we took out time getting there.

Rendez vous-ed with Greg, headed over to his friend, Lynn's house. She has an "Art Barn", a cool old barn converted into a romper room and arts and crafts work shop for kids (of all ages). Made masks and costumes, mine was complete with wings, tucked Job, who was pooped from his run and would sleep like a log, with Teddy, Greg's little black Pomeranian, into the back of Greg's truck, hopped in with Deborah, who'd driven up from LA for the event, and we all headed for Ojai.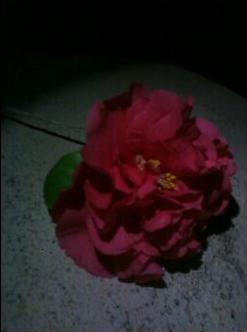 To honor love.


It hit me as my friend laughed with an element of disbelief at the fact that I hadn't asked her for her phone number or given her mine. His reaction was honest without judgement though it was hard for him to not call me an idiot now that we drove down the freeway late night headed back to his house. Everyone one in the car couldn't believe I'd left her on the dance floor with a hug and a smile after the band had played its last song and the lights had come up. There was even an after hours party that I could of attended to prolong my time with her. I have such blind faith in my instincts that I don't need logic to endorse my decisions. Logic did not create the universe. The universe created logic, and little creatures that seem far too dependent on logic alone. But, could I have been wrong? It's a fine line between wholeheartedly appreciating something, which I definitely did, and trying to maniplate circumstnces to get something you want. When you find a beautiful flower in the forest if you pick it, it will die. If it makes you stop in your tracks and appreciate it's beauty letting it be will allow it to remain there in its natural state. I didn't want to ruin something beautiful, but, now, I was realizing that maybe it was possible that I didn't see what they all saw. You definitely have to step out of your comfort zone sometimes in life. Was I afraid of how beautiful she was? Or, was their ridicule just making me doubt myself now that the moment had passed and I was outnumbered. There is no gain without risk, but there is, also, more than one way to rise to the occasion, if such an occassion truly exists.

There is a flower laying on the summit of a lion's head fountain in the town's square of Ojai, California. Not many people, if any at all, will notice the hearty bouquet of pink petals resting on the peak of the curved wall that water flows from. It's resting place is too high above the heads of passers-by walking along the sidewalk for anyone who isn't looking for something out of the ordinary to detect it. It was placed there in the early hours of the next morning long after the Mardi Gras night of costumes, music, and dancing was over as an offering of appreciation to honor love. The streets were empty and quiet as the town, now, slept.

Back in the city, I stood outside the locked door of Helen's house. Greg and his wife had dropped me off on their way home to bed. All the lights were on and people were gathered in the kitchen talking and laughing as the events of a weekend night entered their next phase finally tapering to a point of acceptance and slumber. I had a key to the door in my back-pack or I could have banged loud enough for them to hear me above the ochestra of conversations, but instead I paused for a moment, turned around, walked over to a car that I had the use of if I wanted it, got in it, drove through the city onto the freeway away from the ocean up into the valley through the forest to where the mountains began and the little town of Ojai was nestled. I pulled over and let Job run around for a minute or two. My mind could have tried to explain that he was the reason I left the chance to stay with her longer. My ride back to the city was leaving and he was waiting for me in the back of Greg's truck, but I didn't need reasons. I didn't need to know why I was suppose to leave just like, now, I didn't need for her to know I'd come back. I picked a flower in the night and Job and I went for a quiet enjoyable walk in the little town. We walked past the front of the building with the garden courtyard where the celebration had been held with all it's artwork decorating the outside of it then down the sidewalk under the brightly lit stone archways that lined the store fronts on main street. The only sounds I heard were the echoes of voices that spilled out of the open door of a Mexican restaurant a block away as the family that owned it sat around a table talking in Spanish. As I walked and the sounds faded, I could hear water splashing into a small pool. I looked across the street and saw the lion's head facing me. I walked across the empty road, hopped up onto one of the benches built into the other side of fountain facing the park and with a little balancing act reached up and placed my offering on the crown of the adobe wall framing the king of beasts.

I don't want to control life. I want to participate in it's natural flow while taking responsibility for my role in it when I have one. If I had dropped the ball when she asked whether there was anyway for someone to get in touch with me, it was because I didn't want to grasp at something too beautiful and unattainable at the present moment. People deal too much with only the specifics of the here and right now expecting immediate results for immediate thoughts with the only criteria for action being what they want not what is best, but life operates according to it's own natural pace not a man-made one. How could I tell her that I need a whole tribe to keep me home and our tribe has disbanded so I have no home. We are all living seperate lives in artificial villages that have too many walls and straight lines. How could I explain to my new friends that though they didn't realize it they were my new temporary tribe and I was torn between how wonderful it felt to be part of a group if only for a short while and how wonderful it felt to look into the eyes of a beautiful creature who was looking back into mine.

Oh well, guess I should have walked after all then I would have everything I needed right there with me. Darn cars. She was just there to dance and have a good time. So was I and we got to do it together. The flower will dry up and the wind will blow it from it's perch. Beauty is beauty whether we notice it or not. Even as the new friends I've made in the last two weeks showed me no mercy this morning at breakfast for letting go of something good that could have been better I know in my heart it didn't go unnoticed or unappreciated and I did what I could to honor it.

Met: Deborah, Dee, Trinity, Kevin

Thank you:
"Jo"


March 8th, 2011, Ventura, Ca
Worked. After returning to my camp after dark, I packed up and left. I hated to leave. It was so peaceful out there, but I was unable to come and go during the light of day without being seen because of all the traffic and there's too many homeless people in this area and no offense to them, but I don't like being seen as a second class citizen. I had the use of a small camper and a place to park it up on Ojai which I declined last week because I like being outside too much, but there's nothing stopping me from camping on the property where I was offered to keep the camper until I finish the job. Turns out Ojai's a pretty small town and the new friend who offered me the spot knew my dance partner from the other night and it turns out she had a boyfriend. Chalk one up for the guy who listens to his instincts.



April 7th, 2011, Ventura, Ca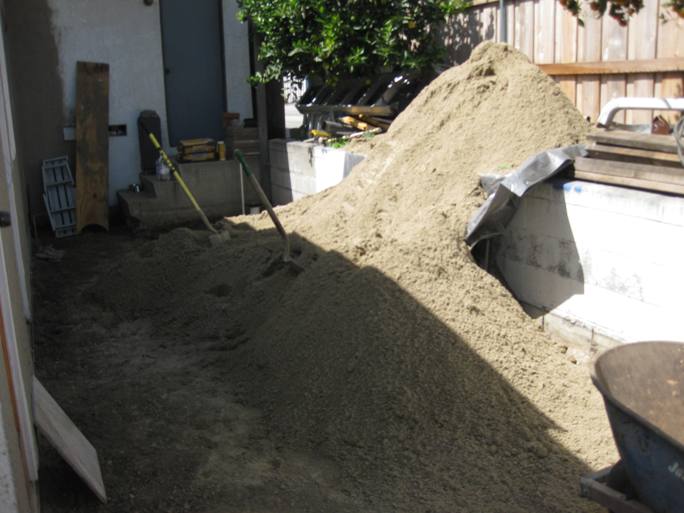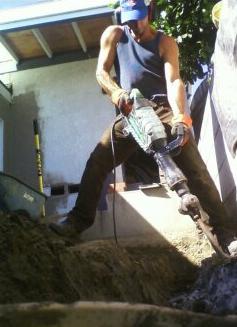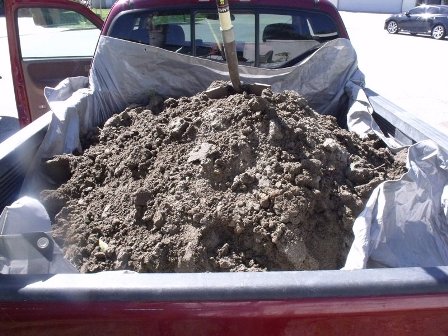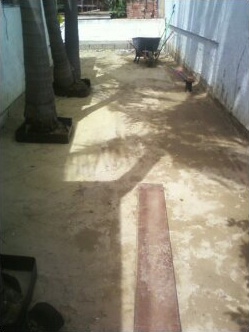 Drove up to Ojai to check the property I was offered to stay on, but itís about 25 miles one way thatís way too much gas to be using, so I decided against camping up there. Just been working and crashing in the little car I've been lent. Iím going to have to high tail it out of here to cross the southwest desert before it gets too hot. After about 20 miles of walking Job develops a limp that is only going to get worse if he tries to keep up with me, so I used the money I have made to bring him to Massachusetts to stay with my father who is getting older and could use the company. I explored flying or using a pet delivery servic, but when it was all said and done it was going to be 800 to 900 dollars and Iíd be trusting my dog with strangers. Tried renting a car one way and flying back, but no rental companies allow you drive one way across the country. I hated to drive and use all that fuel, but rented a car, posted ads on craigslist for people needing rides or pet owners needing their pets delivered somewhere along the way, made arrangements with a woman in Las Vegas who needed her two cats brought to upstate New York after she had to suddenly fly there to take care of her sick father, made arrangements with another woman in New York wanting to have someone deliver her two birds to California and another person, also, in NY who was moving to Ca needed some boxes shipped out. Drove to Boston in 50.5 hrs, dropped off Job with my Dad along with the wagon which I no longer need, saw my cousins and drove back to California in 56 hrs, stopped in AZ and La to see some friends. Slept.

Back in Cali, a little broke, and flying solo. Most people at this point would think Iím crazy, but there is a reason someone would go to such lengths. I just need show people what that reason is. In the meantime, since itís just me, now. Iím going to run the country and raise money for the American Cancer Societyís Relay for Life and a number of other charities. And, Iíve decided to think about taking on some sponsors. I met the director of sales for a water company who happen to be out for a walk when I was walking through Summerland, Ca a couple months ago. He offered to sponsor me, but I didnít pursue the idea. I've been on t.v. a couple of times and dealt with big companies before and I've never been too crazy about playing the game, but Iíll never get out of here at this rate trying to fund the trip by digging ditches. Weíll see. I haven't decided. Maybe I just need to chill out and keep things simple as a laborer like I always have and leave when I've worked enough. Or, maybe I need to not be so stubborn and allow others to get more involved if they're well intended. In a way it has already started to happen. A gentleman I offered a ride to on CL when I was leaving the east coast is a partner of a webdesign company in Dallas. He found my site from my email address and offered to re-desgin it for me for free. I told him I've had offers from folks in the past, but what people say and what they actually do are two different things. He laughed and said he can appreciate that, but they'd like to start working on it next week. He seemed genuine, so we'll see. (-6.10.11, never heard back from them)
I miss my buddy.




*Truck driver, who pulled out in front of me on the freeway in Wyoming to slow me down when he saw a cop up a head




May 10th, 2011, Muir Beach, Ca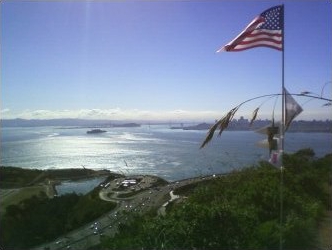 Put in a few more weeks of work, left the city of Ventura (finally), too hot to head across the southwest desert this time of year, headed north to a farm on the central coast, worked a few days, got well fed, hopped the train to San Fran, camped on a small cliff over the bay near Fisherman's Warf, got up, hiked out of the city, across the Golden Gate, over the mountains in Marin County and camped on a mountain top overlooking the ocean near Muir Beach. Tomorrow, I'll head to a nearby town where I arrived on the coast 12 years ago on my first walk to head east.

*Ryan, who offered a ride on Prefumo Canyon in San Luis Obispo

Thank you:
Greg and Laura
Al and Rick
Rick, at Staples in Oxnard who didn't charge me for the charity flags
Lauren, for the card, salve and donation
Jerry, hardware errands and a garage to work out of

Met:
Tom vonG. and Lauren W.
Harry G.
Jim
Ben
Fidel
Juan



May 11th, 2011, Boston, Ma

90% of the time in my life, not quitting has worked. It has allowed me to accomplish things that others couldnít because they gave up too early. Relying on something that works 90% of the time is pretty good odds. But, what about that 10%? What about when no oneís watching and no oneís there to say ďDude, thatís enough. Let it goĒ and you keep trying and trying and it beats you down again and again, but you just take a deep breath and keep trying? What it youíve tried to rely on that 90% average 100% of the time? That 10% can ruin you. What if not quitting is all you have? I started to wonder whether that 10% was ruining me about 2 years ago, but I didnít stop. It probably has for a lot longer. We all have a story. Itís the one of our lives and weíve been telling it since the day we became conscious of our own existence. There is another story. Itís the story of us. The story of humans living on this planet and all the changes we've been through. I think itís important to be aware of both stories because they both have a significant bearing on our lives. Iíve always liked and believed my personal story and tried to live it according to what I saw was responsible according to our story relative to the impact we've have had on one another and our planet, but I donít like my story anymore and I keep trying to cram the solution into that 90% that has always worked for me.

After arriving on the coast and only 5 or so miles away from the spot I'd chosen to head east from, I walked through a small seaside town and notice a chiropractorís office. Considering the task ahead of me combined with a slight ache I felt in my lower back the day before most likely as a result of the rocky narrow trails Iíd been pulling my little trailer up and down for the last two days, I decided itíd be wise to get a ďtune-upĒ. I donít have a lot of experience with chiropractors, or doctors of any kind for the matter, but it was my understanding that they specialized in healthy back care and my back and body have definitely spoiled me for my entire life, so I decided to poke my head in the office and see about having some preventative maintenance done. The doctor happened to have an opening right then and there and after talking with me for a couple of minutes and telling me what great shape I was in, he said he knew just what to do. I asked how much it would be. $130 was a little expensive for my budget, but this was my body we were talking about it and I decided it was worth it. He did some pushing and pulling, twisting and crunching and all the while I was kind of laughing to myself because the human body amazes me. I was hoping that slight ache I felt would be gone. It wasnít, yet, but I figured it might take a few hours or a day. He only charged me $100 and told me to put the other 30 towards one of the charities I was raising money. We shook hands as his next patient was waiting and I headed down the road.

I didnít sleep much that night. By that evening I was hobbling around trying to figure what was wrong with me. My back wasnít feeling better. It was 10 times worse. Iíd gotten to the beach that afternoon where 12 years ago my first walk had ended. Iíd come full circle back to this very spot geared up and ready to put this journey to rest once and for all. It was fairly warm, but very windy. I curled up in the sun and let the sand tap against my face as I slipped into an uneasy nap. I woke up in the early evening. It was still sunny and windy, but not as warm and I got up and walked into town as the pain worsened. I got some vegetables at the little food co-op and walked out of town towards the mountain range that walled up along the coast like a fortress. I knew exactly what was waiting for me. Iíd walked that same small windy beautiful mountain road over a decade before. I set up camp before dark wrestling with the predicament I was in.

The next morning I could barely walk. As I packed up camp by the lagoon that separated the little coastal town from the mountains, I tried to shake off the pain refusing to acknowledge it was really as bad as it was, but I knew I was going to have to make a decision. If I ignored it, I'd only be making it worse while causing irreversible damage to my body. I was trapped. Quitting is not an option to me, but my body was telling me "No." Maybe it's different for other people, but whenever I've broken down in my car or truck on the side of the road and had to accept that at that moment I wasn't going to be able to get it running again, a calm sort of acceptance would come over me as I'd start walking down the road in whatever direction I needed to be going. It was actually liberating to be putting the situation behind me. Unfortunately, this was not the case. I'd already put the complicated man-made game I didn't want to play behind me a long time ago and have been trying to live a simple life, but now, for a reason I didn't have a clear understanding of that simple life was nolonger working for me and trying harder was nolonger a possible solution. I had finally painted myself into a corner I couldn't get out of. Congratulations.



June 11th, 2011, Athens, Maine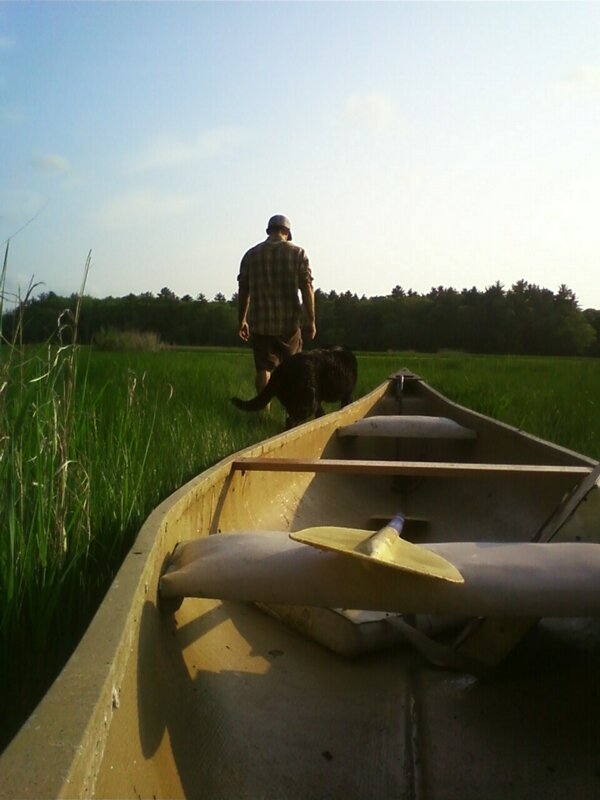 The story of our lives that we tell ourselves as we go through life can either be told by our hearts or our minds. Your heart tries and your mind keeps score. Your heart understands and your mind judges. Your heart is peaceful and your mind cannot sit still. Your heart needs and your mind wants. They both have a use in your life, but the one you put in charge of your life will determine how much true happiness you have. You can never replace what you need with what you want. I left the beach on the coast of California a failure to my mind. My road kharma served me well catching me a ride with the first car that passed me by early that morning. Sitting on a plane in San Francisco bound for Boston, I had to accept that no matter how hard I tried I wasn't going to succeed at the contrived goal my mind had set for me. I had no choice, but to let it go and sometimes this is the only way we learn. When I look at the corner I had painted myself into, it had to happen. It was the only way I was going to accept that acheiving a contrived goal can never give me what I need. Admitting this may be the scariest thing I have ever done and I will have to continue to admit it. Putting my head down and trying harder is were I've hidden. Living outside a system I do not agree with has only allowed me to hide from admitting this. Facing our fears is the only thing that makes us stronger. I've tried to face mine, but have refused to do it on anyone else's terms by mine. After two weeks of pain I finally found a doctor that put my back in alignment after the one in California yanked it out. With my healthy body back, I seriously considered packing up and leaving on foot, again, from the east coast still running from the fear that is, now, a little clearer to me, but family responsibilities will no longer let me run. Instead, I headed up to Maine to stay closer, find a farm to work on and write a book of lessons from the 15 years I've spent on the road. My mind thinks all these reasons are bullsh*t. My heart doesn't care what it thinks. Still learning...


July 7th, 2011, Freeport, Maine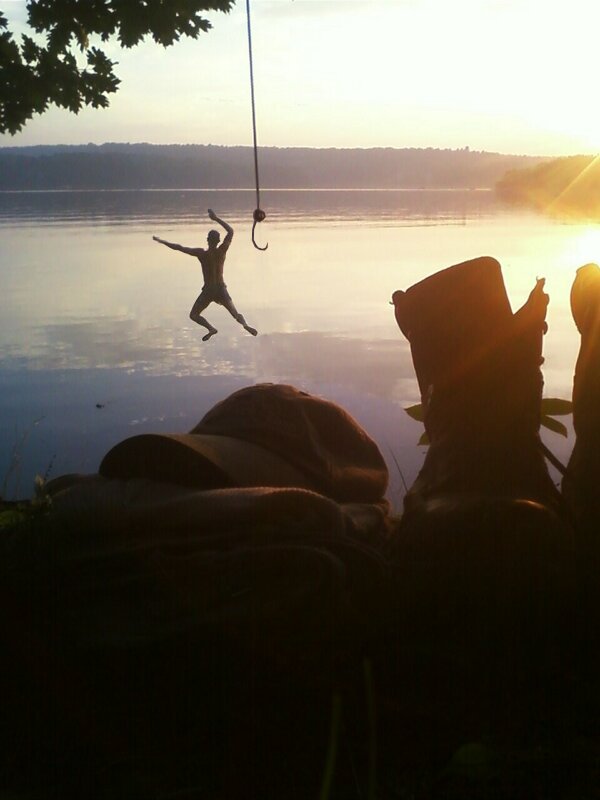 Put up a ropeswing, today.



August 8th, 2011, Freeport, Maine
Wrote an article. The paper that published it changed the title and made me shorten it.

The original:



COMING HOME TO MAINE



I left because I had the nerve to think I could do it better someplace else and on paper I had everything I needed to do so. I was on the west coast in a pristine location where endless rolling hills meet sandy beaches without a man-made structure in sight. The coldest it got in the winter was in the low 50ís and it didnít stay that cold for long if it did at all. You could grow food year round. There was no such thing as traffic and the wildlife both in the sea and in the forests was abundant. Iíd just been offered the perfect job for me managing a lemon and kiwi farm nestled in a secluded valley a few miles from the ocean. So why did I come home to Maine? Simple. You canít replace what you need with what you want. The west had a lot of what I wanted, but Maine has everything I need. Firstly, I should get one thing out of the way. Job is my dog and for nine years heís been with me through thick and thin. He was a stray up in Wiscasset before somebody picked him up and brought him to the shelter in Brunswick where I adopted him and brought him to the farm with me. He has been the easiest dog Iíve ever had to train. Having left with him made it even more haunting for us both of to be back, now. Weíd come back from California and before that Oregon, before that Texas, before that Georgia, the list goes on. I was young and naive and wanted to do it right. Do what? Live a natural and honest life. Iíd gone to college groomed for some sort of white collar job, but by the time graduation day came Iíd grown to identify more with the construction, commercial fishing, and mechanical work Iíd been doing during the summers than with the white collar business world I was expected to enter. People may think that making a lot of money is determined by how smart you are, but I didnít want to live a life that rewarded me for how smart I was. I wanted to live a life that rewarded me for how much heart I had. Maybe thatís my problem.

Having left on foot with nothing, but youthful idealism and a stubborn New England work ethic, I was determined to prove that if a person was honest and hardworking they could accomplish anything. Even a car was beneath my lofty standards. I sold my olí Chevy Suburban, loaded my pack with camping gear and dog food, and headed south along the Maine coast with Job in the fall of 2003. The night before, the farm which we had come to call home had its annual dance in the barn. I had a great time, as always, and part of me wondered why in the world I wanted to leave. The life I had was just about perfect, but that wasnít good enough for me. What I hadnít learnt, yet, was the difference between almost perfect and perfect isnít whatís on the outside. Itís what it means to you on the inside. Almost perfect is as good as it will ever get and more than most could ever hope for. It took me a few years and a few thousand miles walked to learn this and I hadnít until I crossed the Maine state line and came back.

Things on the farm are different, now. Though they offered me work the same day I stopped by to say "hi", there are a lot of new faces and changes and I secretly hoped itís still a place were hard work is valued. In the years we were gone, it hadnít taken me long to realize that the name of the game in the "real" world wasnít based on the values I had set out with. It seemed far too many people were looking for a "sweet deal", one that consisted of working as little as possible while getting paid as much as possible. Though the media had its fun with a young man and his dog walking across America and we were featured on MTV, NBC and local newspapers, big companies were surprised when I didnít jump at their offers to capitalize on the attention. I wasnít looking for a sweat deal. I was looking for a fair deal. I like hard work. It keeps me healthy and disciplined. Being educated, quick or clever may make you successful in the games people play to make lots of money, but you canít out smart life only one another. I donít think being intelligent has ever been the cause of anyoneís happiness. And if home is where the heart is then I, now, know exactly where I belong. Being close to family, hard work, a love for the land and a life thatís connected to it in so many ways is what Maine represents to me. I know that there are other places that mean the same thing to the people that live there, and Iím glad for them. Maineís deep forests, old mountains, wild rivers and a coastline of inlets and islands unmatched by any other, maybe, in the world is more than I could ever need. Whether you live in the country or the city, dignity isnít how much you have. Itís how well you take care of what you do. Camped with Job in a tent on the edge of a hay field, happy to be working and patiently waiting to see whether this was the place I left to find years ago, I know that if it isnít it is someplace in Maine. Itís good to be home.



Sept. 9th, 2011, Hebron, Maine, 5:07am

Returned to Maine in June to stay closer to family, went by the farm I used to work at and they offered me a job, worked there four months, did some acting for the local theatre company, still living out of a tent, the farm is almost bankrupted because of its present CEO, packed up and left last night, start work on a new farm this morning. Looking for a place where hardwork, being organized and efficiency is rewarded.






Home